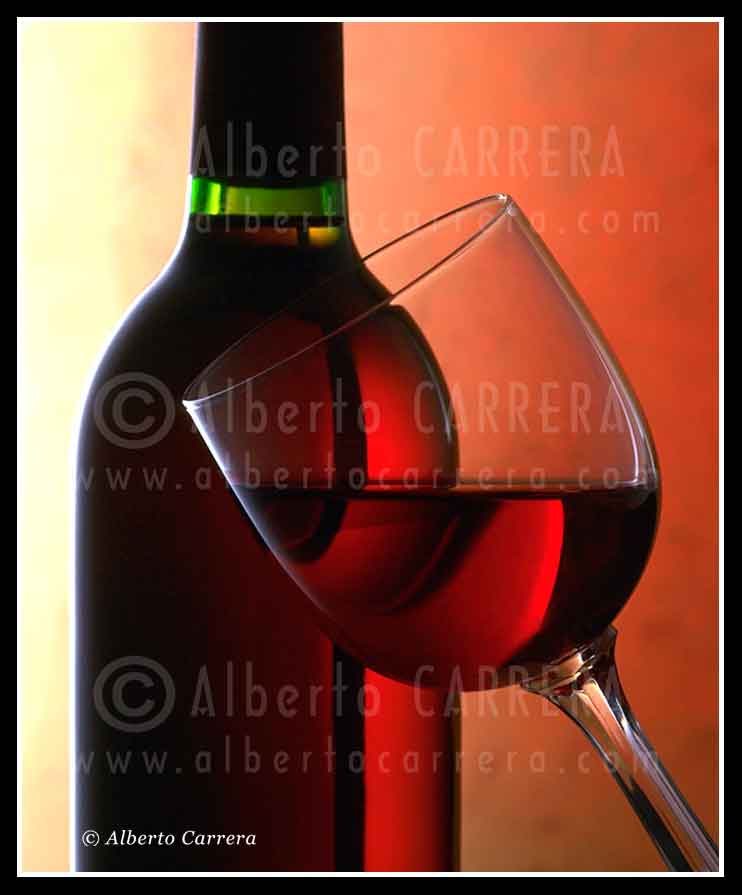 Advertising, Wine Glass
In advertising photography, commercial interests are imposed, the last goal is to make an attractive product (a watch, a bicycle or a roast chicken), and try to «seduce» the consumer. That is why it becomes a slow, careful and laborious discipline, being sometimes necessary several sessions to take a picture.
Advertising photography is a type of photography in which 90% of the time is usually done in a «studio», with the camera almost always joined to a tripod or «studio-column.» The equipment used can become quite «sophisticated», other than cameras or appropriate objectives to each picture (also those), but I mean, mainly lighting. An advertising photographer must know especially to light up. We must keep in mind that while outdoors we usually depend on the natural light, in the studio, the photographer must have absolute control of light, because he  is the one to decide where and which intensity will illuminate each one of the light sources (if he decides to use more than one).
The photographer must also…………………
En fotografía publicitaria, se imponen los intereses comerciales, el fin último es hacer un producto atractivo (ya sea un reloj, una bicicleta o un pollo asado), e intentar "seducir" al consumidor. Es por ello que se convierte en una disciplina pausada, muy cuidadosa y laboriosa y es que, se dan ocasiones en las cuales se tarda varias sesiones en realizar una toma.
La fotografía publicitaria es un tipo de fotografía en la cual el 90% de las veces se suele realizar en "estudio", con la cámara casi siempre sobre un trípode o una "columna de estudio". Los equipos utilizados pueden llegar a ser bastante "sofisticados", no ya las cámaras o los objetivos idóneos en cada toma, (que también) sino sobre todo la iluminación. Y es que, un fotógrafo publicitario sobre todo debe saber iluminar bien. Hay que tener en cuenta que mientras que en exteriores solemos depender de la luz ambiente, en estudio, quien debe tener el control absoluto de la luz es el fotógrafo, pues es el que tiene que decidir de dónde y con qué intensidad va a iluminar con cada una de las fuentes de luz (si es que decide utilizar más de una).
El fotógrafo también deberá decidir………………….
https://www.albertocarrera.com/wp-content/uploads/2018/03/Alberto-Carrera-Blog-01-002.jpg
895
742
acceso_alberto2018
https://www.albertocarrera.com/wp-content/uploads/2018/03/cabecera.jpg
acceso_alberto2018
2016-07-22 09:04:29
2018-04-10 11:20:47
About Advertising Photography and Wildlife Photography 2 // Sobre Fotografía Publicitaria y Fotografía de Naturaleza 2