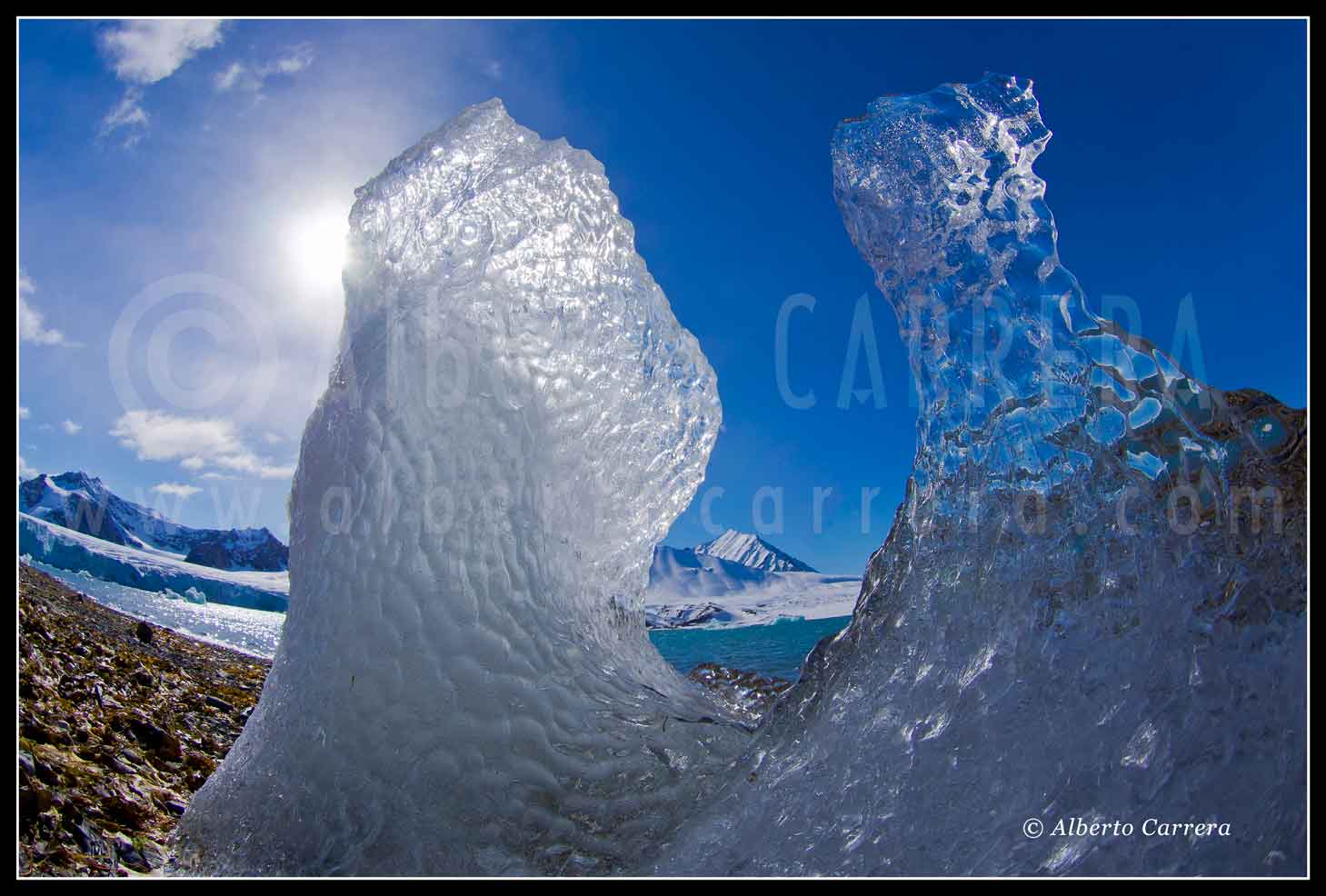 Drift floating Ice, 14 of July Glacier, Krossfjord, Svalbard, Norway, Europe
UNA HISTORIA MÁS DE FOTOGRAFÍA DE NATURALEZA 20 // ONE MORE WILDLIFE PHOTOGRAPHY STORY 20
………..perseguir durante media hora dando aletas como un loco a un tiburón ballena, a ver si hay suerte y se da la vuelta en las Islas Maldivas (al final, no); la mirada inteligente de un orangután en las selvas de Borneo; la vista nocturna a 4.000 metros de altitud de las montañas más altas del mundo en el Himalaya Nepalí mientras intentas coger aire en tus pulmones para poder dar otro paso en la nieve y continuar el ascenso nocturno y………….. ¡Tantos más!!!
Pienso que son esas emociones, sentimientos y sensaciones increíbles, que hemos tenido la oportunidad de sentir en directo, las que cada "fotógrafo de naturaleza" intenta transmitir con sus fotos. Si, hacemos fotos porque nos gusta, nos encanta, pero también creo que hacemos fotos porque lo que pretendemos, (y esto es lo más importante) es transmitir esa belleza a la gente que, o no tiene la oportunidad de vivirlo en directo o no quiere. Y no solo porque está ahí y es tremendamente bello, sino porque se ignora con demasiada frecuencia su vital importancia para nuestro bienestar y el de futuras generaciones. Y lamentablemente, somos nosotros mismos, el ser humano, el que está destruyendo tanta riqueza y belleza. El dinero, la avaricia y la codicia de demasiados, sumado al hambre e incultura de muchos más, tristemente sobrepasa con creces la extraordinaria capacidad de resistencia y regeneración de la naturaleza.
Los "fotógrafos de naturaleza" debemos…………
………………………………………………………………………………………………………………………….
…………….to go after a whale shark for half an hour giving fins like a crazy man, to see if I´m lucky and it turns, in the Maldives Islands (finally, not); the smart look of an orangutan in the jungles of Borneo; the night view at 4,000 meters of altitude of the highest mountains in the world in the Himalayas Nepali while you try to catch air in your lungs to be able to take another step in the snow and continue the nocturnal ascentand; and …….many more!!!
I think these amazing emotions, feelings and senses we have had the opportunity to experience in live, are the ones who every «wildlife photographer» tries to transmit with their pictures. Yes, we take pictures because we like, we love to do it, but also I think that we take pictures because (and this is the most important thing) we want to transmit that beauty to the people who whether doesn't have the opportunity to experience or they doesn't want. And not only because it is there and it is tremendously beautiful, but also because it is too often ignored its vital importance for our well-being and for future generations. Unfortunately, we are ourselves, the human beings, who are destroying so much wealth and beauty. The money and greed of too many people added to the hunger and ignorance of many more, sadly exceeds by far the extraordinary resistance and resilience of Nature.
«Wildlife photographers» must actively participate ……………..
https://www.albertocarrera.com/wp-content/uploads/2018/03/Alberto-Carrera-Blog-2-020.jpg
986
1459
acceso_alberto2018
https://www.albertocarrera.com/wp-content/uploads/2018/03/cabecera.jpg
acceso_alberto2018
2017-10-06 09:20:38
2018-04-10 11:20:09
UNA HISTORIA MÁS DE FOTOGRAFÍA DE NATURALEZA 20 // ONE MORE WILDLIFE PHOTOGRAPHY STORY 20