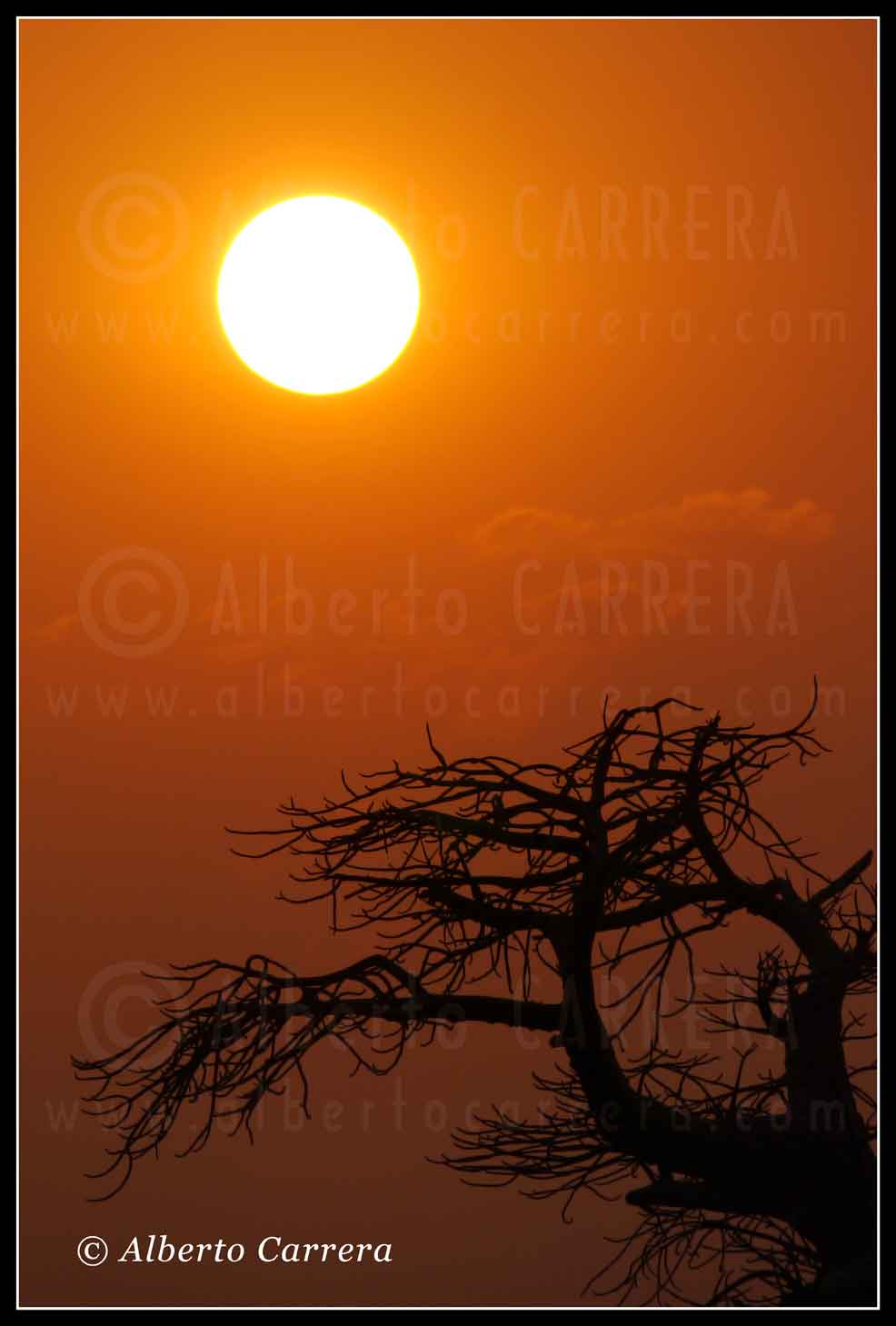 Dawn Sunrise, Baobab, Adansonia digitata, Kubu Island, Makgadikgadi Pans National Park, Botswana, Africa
UNA HISTORIA MÁS DE FOTOGRAFÍA DE NATURALEZA 19 // ONE MORE WILDLIFE PHOTOGRAPHY STORY 19
………….Porque, ser "fotógrafo de naturaleza" es algo apasionante, algo lleno de experiencias, sentimientos, sensaciones y emociones………realmente increíbles. Además de satisfacciones reconfortantes…….
Y…….buenos momentos……..muy buenos momentos…..: ver amanecer en el Kalahari; la torrencial lluvia de la selva tropical en la Amazonia; verse rodeado de cientos de tiburones a 30 metros de profundidad en las Islas Galápagos; la mirada penetrante de una víbora en la selva tropical de Sri Lanka; la pertinaz defensa de su anémona por el pequeño y valiente pez payaso en el Mar Rojo (a veces duelen los mordiscos e incluso sangras); llegar a los 78º latitud norte en velero en el Ártico, a ver si por fin aparece el oso polar (al final, no); ver venir de frente a un tiburón blanco debajo del agua en Sudáfrica ¡Dios mío, qué dientes!!! ; encontrar por fin, después de horas de búsqueda un pequeño tarsio escondido en el hueco de un viejo árbol en las selvas de Sulawesi; pasar toda la noche sentado en el tronco de un árbol esperando a ver si sale a desovar una tortuga en una playa de la costa del Pacífico en Costa Rica (al final, no); la mirada fija de un leopardo en Botswana, preguntándote si no estará pensando en la cena; observar hipnotizado un volcán activo en los Andes Ecuatorianos; perseguir durante media hora "dando aletas como un loco" a un tiburón ballena, a ver si hay suerte y se da la vuelta en las Islas Maldivas (al final, no); la mirada inteligente de un orangután en las selvas de Borneo; la vista nocturna a 4.000 metros de altitud de las montañas más altas del mundo en el Himalaya Nepalí mientras intentas coger aire en tus pulmones para poder dar otro paso en la nieve y continuar el ascenso nocturno;  y …………..tantos más!!!
Pienso que son esas emociones, sentimientos………………..
---
………………because being a «wildlife photographer» is something exciting, something full of experiences, feelings, senses and emotions…………..really amazing.Besides comforting satisfactions…….
And ……..good moments, very good moments: to see the sunrise in Kalahari; the torrential rain in the Amazonia rainforest; to see how you are surrounded by hundreds of sharks at 30 meters deep in the Galapagos Islands; the snake penetrating gaze in the rainforest of Sri Lanka; the obstinate defense of his anemone by the little and brave clown fish in the Red Sea (sometimes he bites and even bleed); to get 78º North latitude on a sailing ship in the Arctic, to see  if the polar bear finally appears (finally, not); to see coming towards me a great white shark being submerged in South Africa, oh, my God!!! what teeth!!!; after hours of searching, finally find a small tarsier hidden in an old tree hollow in Sulawesi jungles; to spend all night sitting on a tree trunk waiting to see if a turtle appears to spawn, on a beach of the Pacific coast in Costa Rica (finally, not); the leopard gaze in Botswana, wondering if he is not thinking about his dinner; to observe hypnotized an active volcano in the Ecuadorian Andes; to go after a whale shark for half an hour "giving fins like a crazy man", to see if I´m lucky and it turns, in the Maldives Islands (finally, not); the smart look of an orangutan in the jungles of Borneo; the night view at 4,000 meters of altitude of the highest mountains in the world in the Himalayas Nepali while you try to catch air in your lungs to be able to take another step in the snow and continue the nocturnal ascentand; and …….many more!!!
I think these emotions, feelings…………..
https://www.albertocarrera.com/wp-content/uploads/2018/03/Alberto-Carrera-Blog-2-019.jpg
1459
986
acceso_alberto2018
https://www.albertocarrera.com/wp-content/uploads/2018/03/cabecera.jpg
acceso_alberto2018
2017-09-28 09:30:32
2018-04-10 11:19:58
UNA HISTORIA MÁS DE FOTOGRAFÍA DE NATURALEZA 19 // ONE MORE WILDLIFE PHOTOGRAPHY STORY 19