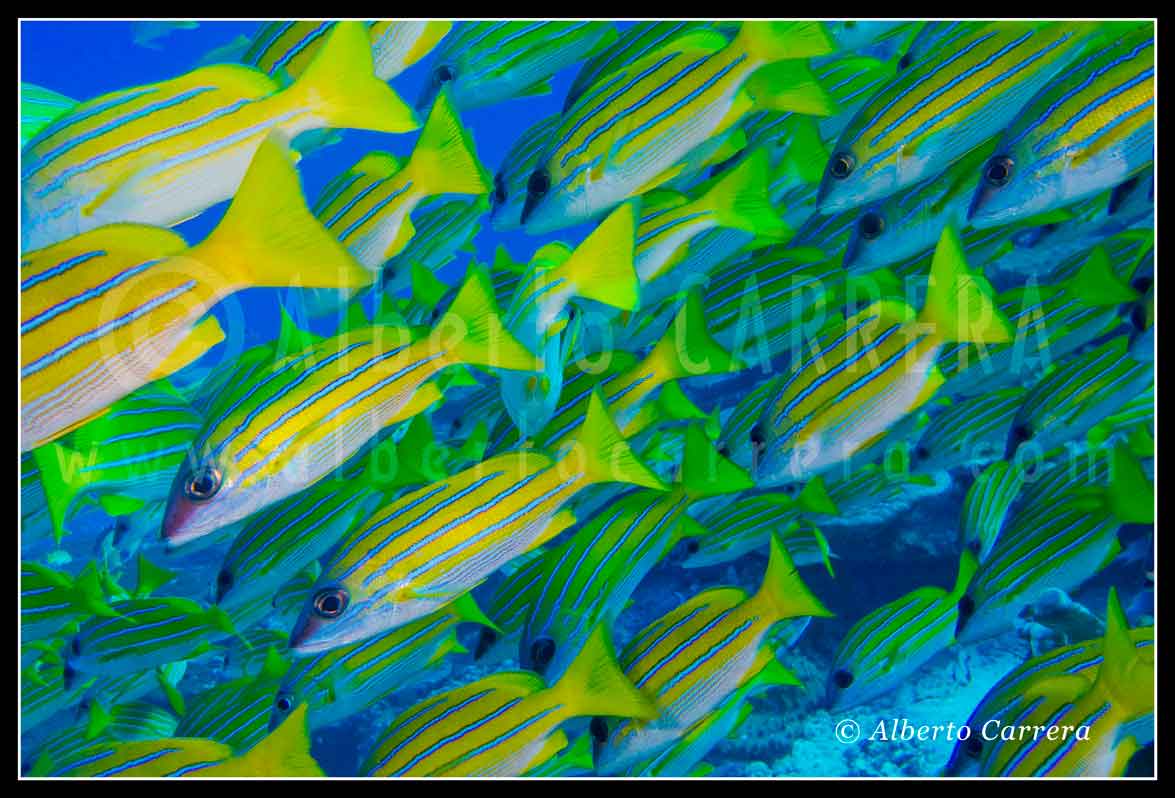 Blue-striped Snapper, Lutjanus kasmira, North Ari Atoll, Maldives, Indian Ocean, Asia
UNA HISTORIA MÁS DE FOTOGRAFÍA DE NATURALEZA 18 // ONE MORE WILDLIFE PHOTOGRAPHY STORY 18
……………."¿Habrás hecho alguna foto? ¡No todo es diversión!!! ju, ju!!!" "¡No trabaja, no hace nada, es un vago, solo fotos de bichos!".
Todo esto te afecta más de lo que tu quisieras y es entonces cuando piensas en dejarlo, ¡Abandono, no merece la pena…….lo dejo! ¡A la mierxx..….!!! Pero…….. ¿Qué necesidad tengo yo……..?
Pero un minuto después, piensas, ¡Hombre, tres idiotas no deberían cambiarte la vida! ………….Recapacitas, valoras….pues… ¡Uuuuufff!….…No sé……después de todo……mmmhummmm……..lo piensas mejor.
Siempre hay buenos amigos al lado que te animan, palabras de reconocimiento y estima de algún colega que otro, gente que "te sigue", pulsa "me gusta" y comparte y comenta tus fotos……y……cambias de opinión. Sí, sinceramente creo que sí, creo que sí merece la pena. Por todo lo último pero también porque, ser "fotógrafo de naturaleza" es algo apasionante, algo lleno de experiencias, sentimientos, sensaciones y emociones………realmente increíbles. Además de satisfacciones reconfortantes……
Y…….buenos momentos……..muy buenos momentos…..………
………………………………………………………………………………………………………..
…………….»Have you taken any picture? Not all is fun!!! ju, ju!!!» «He does not work, he does not do anything, he is a vague, he is only dedicated to taking pictures of bugs!!!"
All this, affects you more than you wanted, and that's when you think about giving up, I drop out, it isn't worth it! To hell with……everything!!! «But …….what need do have I to ………?
But a minute later, you think, Three idiots should not change your life!………….You reconsider, you value…….well……Uuuuufff ……..I don't know…….after all…………..Mmmhummmm…..you think it better.
There are always close good friends that encourage you, award words from one or another colleague, people who «follow you», press «like» and share and comment your pictures…………and………. you change your mind. Yes, I sincerely think so. I think it is worth the effort. For all the latest but also because being a «wildlife photographer» is something exciting, something full of experiences, feelings, senses and emotions…………..really amazing.Besides comforting satisfactions……
And…….good moments………very good moments…………..
https://www.albertocarrera.com/wp-content/uploads/2018/03/Alberto-Carrera-Blog-2-018.jpg
798
1175
acceso_alberto2018
https://www.albertocarrera.com/wp-content/uploads/2018/03/cabecera.jpg
acceso_alberto2018
2017-09-22 08:48:14
2018-04-10 11:19:49
UNA HISTORIA MÁS DE FOTOGRAFÍA DE NATURALEZA 18 // ONE MORE WILDLIFE PHOTOGRAPHY STORY 18