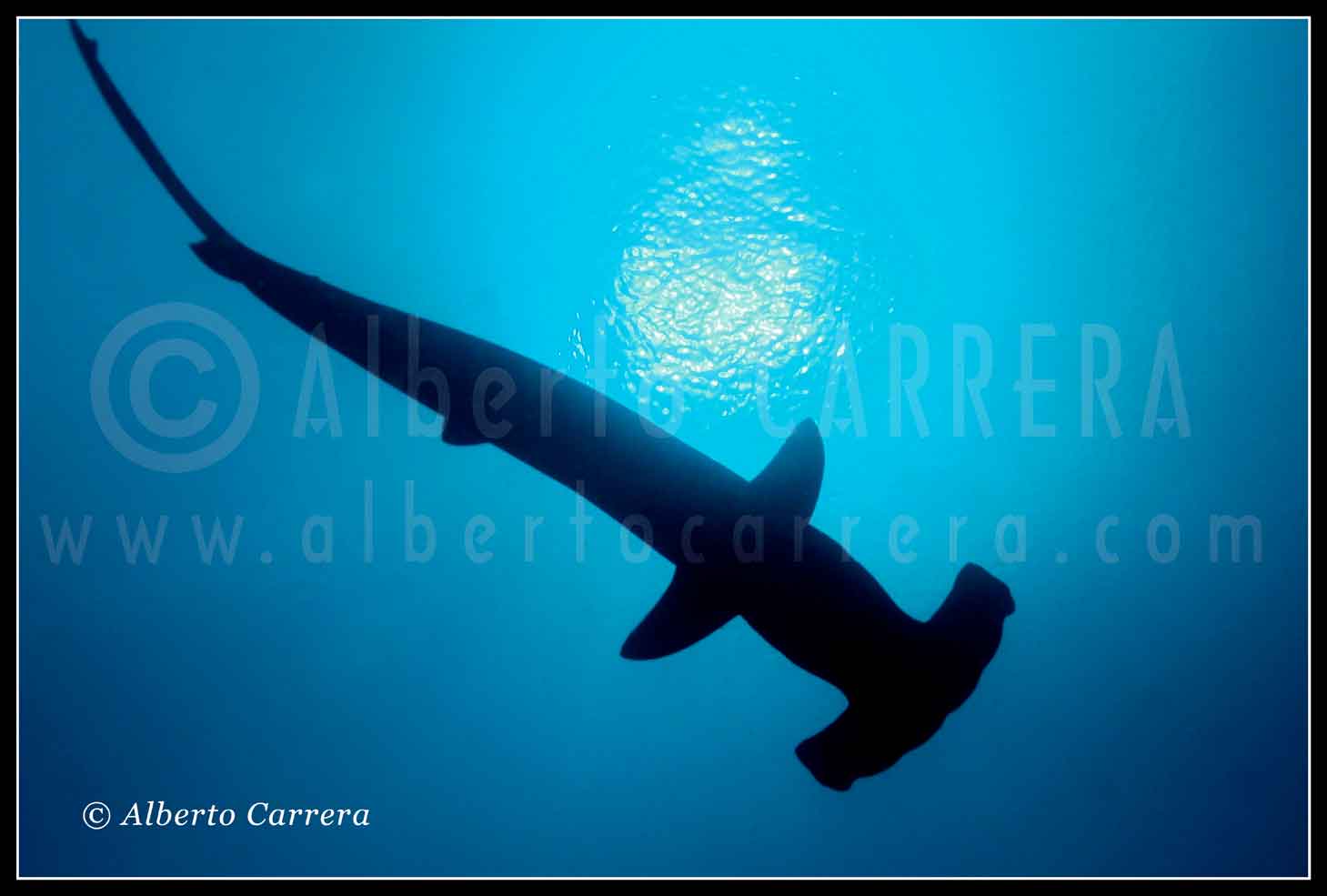 Hammerhead, Darwin Island, Galápagos Islands, Ecuador, America
It should be added to this, in the case of wild animals, wildlife photographer depends on the «capriciousness» of the subject to try to get that «unique» image. Achieving a good image depends on (too much) whether the subject decides, appear, come, run, walk, stop, fly, run, jump, swim, play, watch, sleep, go up, go down, move, hunt, enter , come up, eat, drink, copulate, urinate, ………… etc., etc.,. A nature photographer must pull the shutter button at the right time, trying to freeze that moment of reality. In wildlife photography if you do not take advantage of the occasion, if you do not pull the shutter button at the right time, you will never have another chance.
Therefore, photographing wildlife becomes, in most cases, something quite complicated and totally random and unpredictable, and wildlife photographer becomes really a "sufferer".
A ello habría que sumar que en el caso de fauna salvaje, el fotógrafo de naturaleza depende, para intentar conseguir esa imagen "singular", de la "actitud caprichosa" del sujeto. La consecución de una buena imagen depende (y mucho) de si el sujeto decide, aparecer, venir, huir, andar, parar, volar, correr, saltar, nadar, jugar, mirar, dormir, subir, bajar, mover, cazar, entrar, salir, comer, beber, copular, orinar, …………etc., etc.,. El fotógrafo de naturaleza debe apretar el disparador en el momento justo para, intentar congelar ese instante de la realidad. En fotografía de naturaleza si no aprovechas la ocasión, si no aprietas el disparador en el momento justo, difícilmente volverás a tener otra oportunidad.
Por lo tanto, fotografiar la naturaleza se convierte, en las más de las veces, en algo bastante complicado y totalmente aleatorio e imprevisible, y el fotógrafo de naturaleza en todo un "sufridor".
https://www.albertocarrera.com/wp-content/uploads/2018/03/Alberto-Carrera-Blog-01-011.jpg
985
1459
acceso_alberto2018
https://www.albertocarrera.com/wp-content/uploads/2018/03/cabecera.jpg
acceso_alberto2018
2016-10-11 10:57:45
2018-04-10 11:22:33
About Advertising Photography and Wildlife Photography 9 // Sobre Fotografía Publicitaria y Fotografía de Naturaleza 9