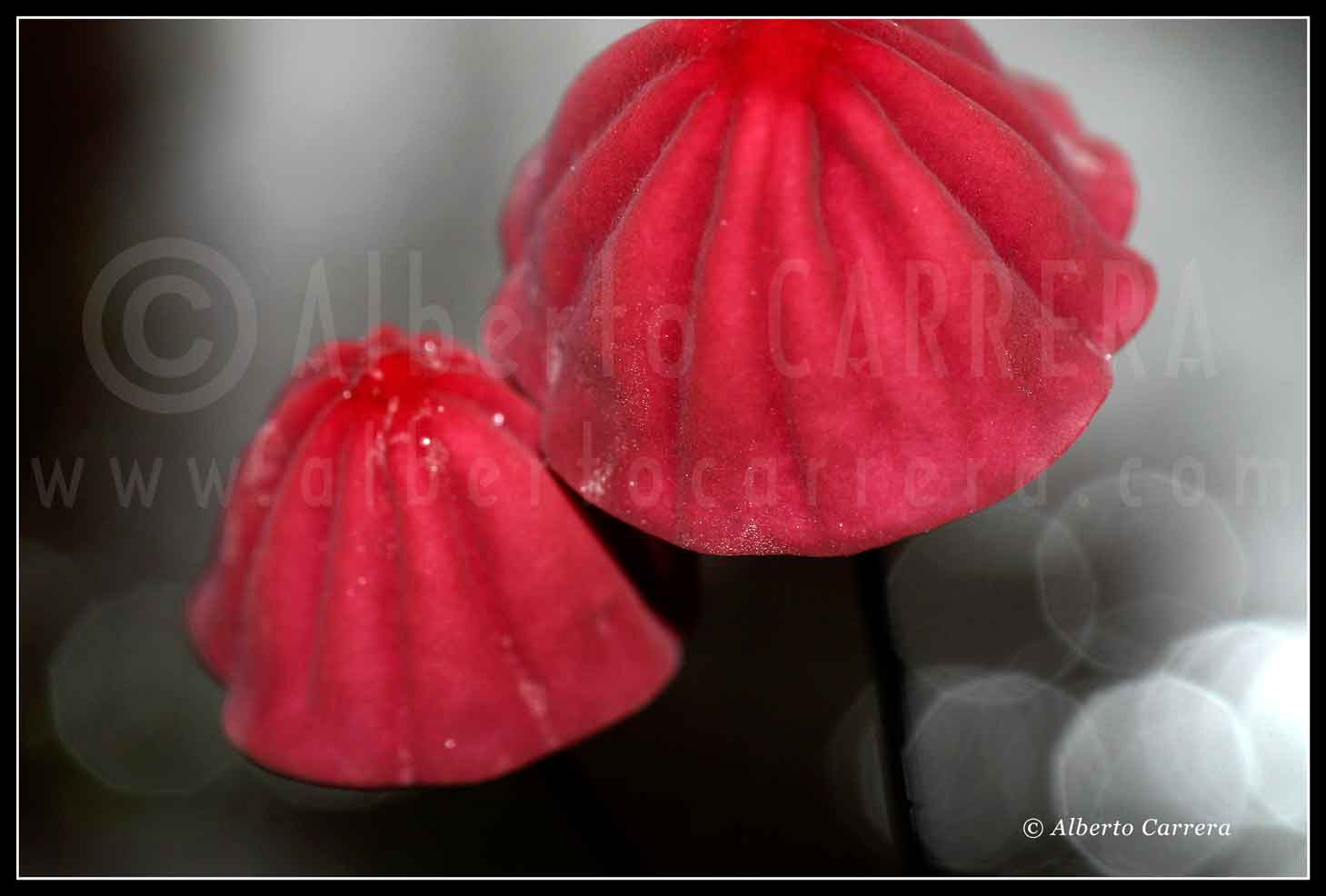 Mushroom, Napo River Basin, Amazonia, Ecuador, America
UNA HISTORIA MÁS DE FOTOGRAFÍA DE NATURALEZA 10// ONE MORE WILDLIFE PHOTOGRAPHY STORY 10
……..¡Joooooodxx!!!.……. las piernas y….algo más arriba……..pero… ¿Cómo han llegado hasta aquí tantas sanguijuelas? Pienso: ¡Como sigamos así nos quedamos sin cigarrillos! (¡en todos los sentidos!).
05:00PM: Comienza a llover, diluviar……… ¡ya, qué más da!
05:30PM: Para de llover igual de rápido que había comenzado e intentamos hacer fuego (no sabía que fuera tan difícil con un mechero, todo está húmedo). Necesitamos humo, ¡Nos están desangrando los mosquitos!!! ¡Son gigantes!!! El repelente se lo toman de aperitivo, yo creo que se colocan con él antes del gran festín.
¡Tanta humedad!!! No sé muy bien cómo, pero con la ayuda de una libreta y pequeñas ramas conseguimos hacer fuego una hora después. ¡Humo! ¡Mucho humo!…..Eso es lo que necesitamos…. ¡Bien!!!
–¡Yo de aquí no me muevo!!! -Le digo por señas al guía -Si nos seguimos moviendo…..lo vamos a empeorar. -Esperamos………esperamos………..comienza a anochecer.
06:30PM: El guía comienza a dar unos "alaridos raros" utilizando las manos a modo de altavoz, está…….. ¡Pidiendo auxilio!!! Yo le imito como puedo. Me parece una situación surrealista, si alguien nos viera pensaría que hemos "perdido el juicio", pienso. Así durante horas………..me duele la garganta.
Estamos cansados. Nos sentamos sobre un tronco y el guía me indica que debemos mantenernos atentos a víboras, cobras y serpientes pitón. Esperamos, esperamos……..escuchamos…….la selva.
09:00PM: Nos mantenemos atentos a los sonidos de la selva….y, de pronto, creemos haber oído algo diferente ……………………..
—————————————————————————
…………the legs and…… something higher…… but……How can so many leeches have got here? I think: if we continue like this, we will be out of cigarettes! (In every meanings!).
05:00PM: Starts raining, pouring……..anyway, who cares!
05:30PM:  It stopped raining just as fast as it had started and we try to start a fire (I did not know that was so difficult even with a lighter….everything is wet). We need smoke, the mosquitoes are bleeding us!!! They are giants!!! They drink the insect repellent like snack. I think that they "make high" with it, (like a drug) before the great feast. So much humidity!!! I really do not know how, but with the help of a notebook and small branches we got to fire one hour later. Smoke! A lot of smoke! …..That's what we need ….Good!!!
–I am not going to move from here!!! -I tell the guide by signs -If we keep moving …we're going to get worse. -We wait………wait………gets dark.
06:30PM: The guide begins to shriek "rare howls" using hands to speaker mode. He is ….asking for help!!! I imitate him as far as I can. It seems a surreal situation to me. If somebody saw us, would think that we "have lost our mind", I think. Like this, for hours…………….I've a sore throat.
We are tired. We sit on a log and the guide tells me that we must keep an eye on vipers, cobras and python snakes. We wait, we wait …… we listen …… the jungle.
09:00PM: We remain attentive to the sounds of the jungle and suddenly we think we hear something different…………….
https://www.albertocarrera.com/wp-content/uploads/2018/03/Alberto-Carrera-Blog-2-010.jpg
986
1459
acceso_alberto2018
https://www.albertocarrera.com/wp-content/uploads/2018/03/cabecera.jpg
acceso_alberto2018
2017-06-22 08:34:52
2018-04-10 11:18:00
UNA HISTORIA MÁS DE FOTOGRAFÍA DE NATURALEZA 10 // ONE MORE WILDLIFE PHOTOGRAPHY STORY 10