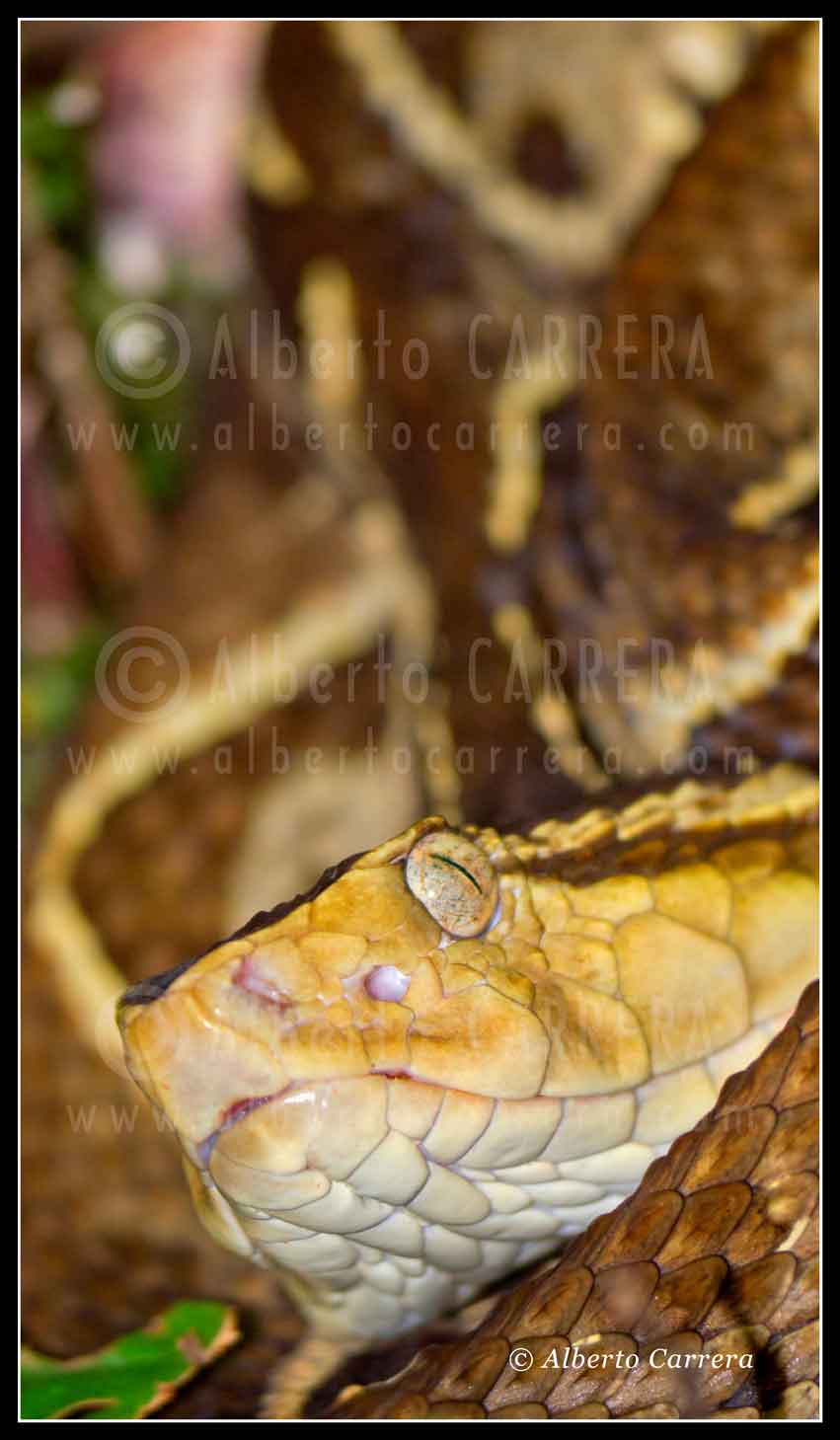 Fer-de-lance Viper, Terciopelo Viper, Bothrops asper, Tropical Rainforest, Costa Rica, America
UNA HISTORIA MÁS DE FOTOGRAFÍA DE NATURALEZA 08 // ONE MORE WILDLIFE PHOTOGRAPHY STORY 08
…………… Entre unas cosas y otras me voy a deshidratar……pero….hay que seguir buscando…… "La foto".
10:00AM: ¡Jodxxx, qué calor! ¡Vaya….hemos calculado mal! ¡Nos hemos quedado sin agua!…… ¡Qué sed!!!
El guía ha decidido atajar por una zona pantanosa. La densa selva crece sobre el agua. Progresamos con mucha dificultad apartando la vegetación y con el agua a nivel de las rodillas.
–¡Oye!  ¡Tu cuello está sangrando mucho!!! 
–¡¡¡Noooooo!!!….. ¡Pues sí!!!…¡Sanguijuelas!!! ¡Bien gordas!!! Estos bichos tienen una capacidad asombrosa para chuparte la sangre sin que te des cuenta. Nos las intentamos quitar de nuestro cuello, brazos y espalda con un cigarrillo encendido. Es una labor delicada…… 
11:30AM: Seguimos avanzando a duras penas, cada vez peor.
Esto no me gusta. Algo raro está pasando. Veo al joven guía muy nervioso…………le pregunto…………
–¡Joooodxxx, qué cara!!!………..¡¡¡Ohh!!!………….. ¡NO!!! ¡No.…..no, no, noooooo!!!…….…… ¡Pues sí!!! ¡Nos hemos……perdido!!! Veo al guía realmente preocupado, se le saltan las lágrimas. Intento tranquilizarle y……..tranquilizarme yo también, aunque la situación no es nada buena. El nivel del agua nos llega a la cintura. No guardo la cámara, necesito distraerme. Intentamos progresar subiéndonos a los resbaladizos troncos y ramas que hay por encima de la superficie. El guía me insta a no agarrarme más a las ramas y árboles (cosa que hacemos para intentar evitar caernos una y otra vez).
–¡Es que hay víboras y bichos peligrosos!!!  ¡Si nos muerde algo, ya sí que no lo contamos!!! -Me dice el guía por señas bastante claras. Y tiene razón pues me está empezando a salir un sarpullido sospechoso en las manos……..
02:00PM: Conmino al guía a intentar……………….
————————————————————————–
……….. Between some things and others I'm going to dehydrate…..but….you must to keep looking…»The picture».
10:00AM: Fucxx!!! It's hot as hell! Whoops!!!……We have miscalculated, we're out of water!!!……..This thirst!!!
The guide has decided to take a shortcut route across a swampy area. The dense jungle grows on the water. We progressed with great difficulty removing the vegetation and with the water at the level of the knees.
–Hey! Your neck is bleeding a lot!!!
–Noooooo!!!!…..Yes!!!….Leeches!!! Very fat leeches!!! These bugs have an amazing ability to suck your blood without you noticing. We try to remove them from our necks, arms and back with a lit cigarette. It is a delicate task……
11:30AM: We continue advancing hardly, worse and worse.
I do not like this. Something strange is happening.  I see the young guide very nervous………I ask him………
–Fuxxx!!!  What a face!!! ……….Ohh!!!………….. ¡NO!!!  ¡No…..no, no, nooooo!!!……….¡Yes!!!  We are……..lost!!!  I see the guide really worried, tears come to him. I try to calm him and reassure myself too, although the situation is not good at all. The water level reaches our waist. I do not put the camera away, I need to be distracted. We try to advance by going up the slippery trunks and branches above the surface. The guide urges me not to hold on to more branches and trees (that's what we do trying to avoid falling again and again……).
— It's just that: there are vipers and dangerous bugs!!!  If we are bitten by something, we will have nothing to tell¡¡¡ -The guide tells me through quite some clear signs. And he is quite right because I'm starting to get a suspicious rash on my hands……..
02:00PM: I urge the guide to try to…………….. 
https://www.albertocarrera.com/wp-content/uploads/2018/03/Alberto-Carrera-Blog-2-008.jpg
1459
851
acceso_alberto2018
https://www.albertocarrera.com/wp-content/uploads/2018/03/cabecera.jpg
acceso_alberto2018
2017-05-31 11:02:17
2018-04-10 11:25:12
UNA HISTORIA MÁS DE FOTOGRAFÍA DE NATURALEZA 08 // ONE MORE WILDLIFE PHOTOGRAPHY STORY 08