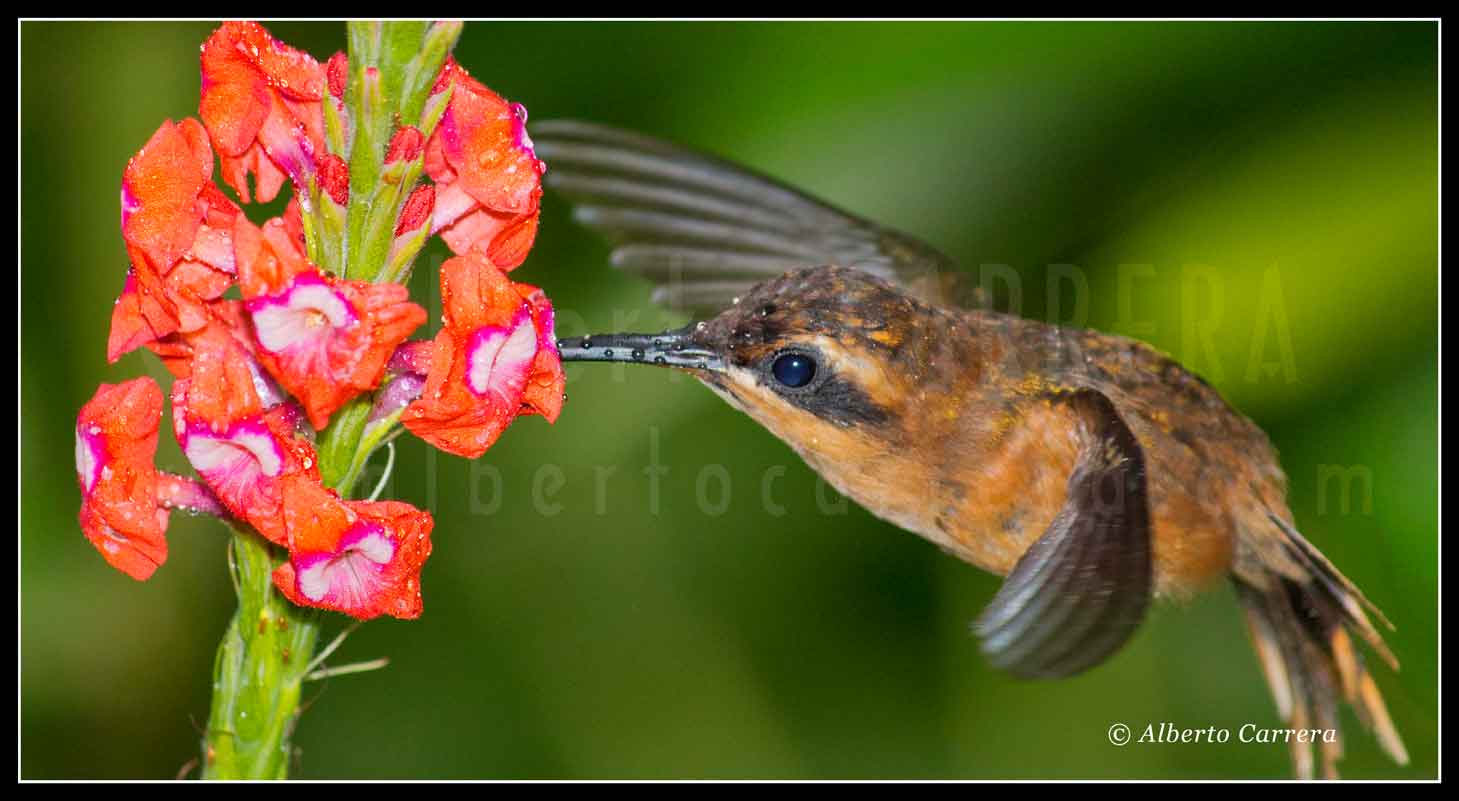 Hummingbird, Tropical Rainforest, Costa Rica, America
UNA HISTORIA MÁS DE FOTOGRAFÍA DE NATURALEZA 13 // ONE MORE WILDLIFE PHOTOGRAPHY STORY 13
……………¡Venga, venga, vamos!!! ¡Se van a fastidiar! Los envuelvo en bolsas de plástico.
01:30 AM: Me pongo a secar y limpiar las cámaras y prepararlas para……….luego.
02:30 AM: Quito las baterías, (como estén, ya no puedo más…..). Apagamos el motor del barco, por fin, silencio…… solo el repetitivo canto de cientos, miles de "bichos" sin determinar.
Me tomo un antihistamínico, me doy antiséptico en las heridas de las sanguijuelas, (no paran de sangrar), crema en las picaduras (no parece que haga mucho, pero bueno), un analgésico para ver si se calma un poco la hernia, y me tumbo un rato sobre la madera de la cubierta. –¿Y la mosquitera? ¡Pero…..si está rota!!! Bueno, no pasa nada, le hago un nudo.
Me quedo dormido hipnotizado por el increíble espectáculo del intermitente destello de cientos y cientos de luciérnagas que me sobrevuelan incansables………
03:00 AM: ¡Me despierto sobresaltado!!!……………….
---
…………..Come on, come on! They are going to be damaged! I totally cover them with plastic bags.
01:30 AM: I start to dry and clean the cameras and prepare them for…………..later.
02:30 AM: I remove the batteries (they are not totally charged, I am not able to take it anymore….). We turn off the boat engine. Finally, silence…..only the repetitive singing of hundreds, thousands of «undetermined bugs».
I take an antihistamine, antiseptic on the leeches wounds (they do not stop bleeding), cream on the bites (it does not seem to be effective, but it's Ok), analgesic to try calm my herniated lumbar disk and I lie a little on the wooden deck. –Where is the mosquito net? But……if it is broken!!! Well, nothing happens, I make a knot.
I fall asleep hypnotized by the incredible spectacle of the intermittent flash of hundreds and hundreds of fireflies that fly me over tirelessly………
03:00 AM: I wake up with a shock!!!……………
https://www.albertocarrera.com/wp-content/uploads/2018/03/Alberto-Carrera-Blog-2-013.jpg
801
1459
acceso_alberto2018
https://www.albertocarrera.com/wp-content/uploads/2018/03/cabecera.jpg
acceso_alberto2018
2017-07-26 10:34:34
2018-04-10 11:18:52
UNA HISTORIA MÁS DE FOTOGRAFÍA DE NATURALEZA 13 // ONE MORE WILDLIFE PHOTOGRAPHY STORY 13