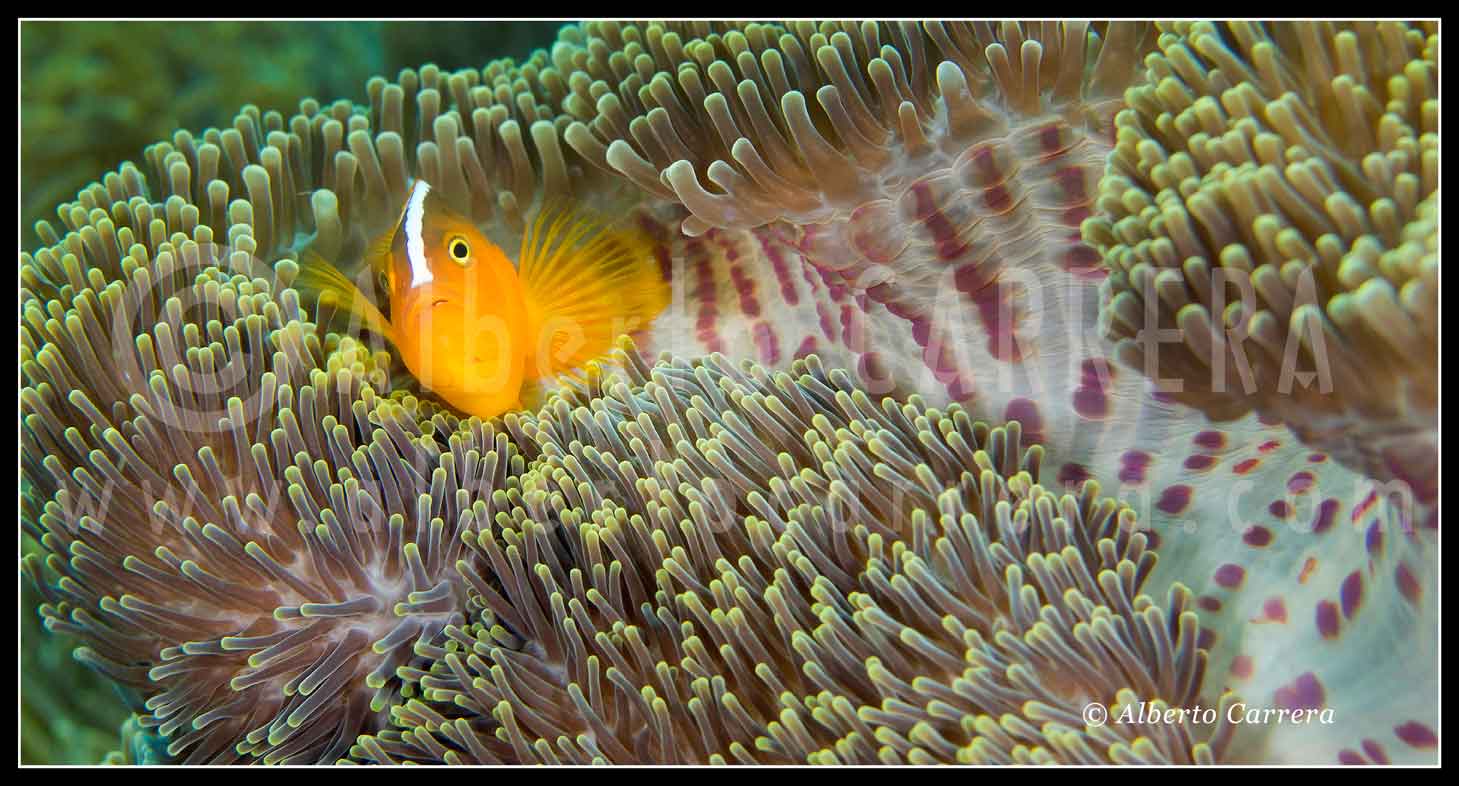 Blackfinned Anemonefish, Amphiprion nigripes, Magnificent Sea Anemone, Heteractis magnifica, Coral Reef, South Ari Atoll, Maldives, Indian Ocean, Asia
UNA HISTORIA MÁS DE FOTOGRAFÍA DE NATURALEZA 15 // ONE MORE WILDLIFE PHOTOGRAPHY STORY 15
……………5:30 AM: ¡Vamos!!! ¡Arriba!!! ¡A levantarse!!! ¡Alegría, vaaaamos, que va a salir el sol y hoy tenemos que conseguir………..buenas fotos!!!
Ya he llegado a casa. Ya estás en el estudio y ahora hay que ponerse con la ardua tarea de editar las imágenes que te has traído (vuelvo a pensar que…………demasiadas). Descarga, salvado de seguridad, visualización y selección; localización y descripción; nombre común y nombre científico de la especie (si es que la hay); palabras clave, etc, etc…Una por una…. ¡Uuuuffff!!!!…. Meses de trabajo……. Bueno solo es trabajo. Laborioso, tedioso, pesado, aburrido, pero…….nada más que trabajo.
Pero…… ¿Dónde está esa foto que creía que era……buena? ¿Y aquella otra que me parecía qué.…? Nada, no las encuentras ¿Dónde están? No están, no existen, nunca han existido. Creía……..pero no, al final no,…….solo fotos……….regulares. Después de tantas dificultades, trabajo, estudio, sacrificio, soledad, dedicación, riesgos, empeño, esfuerzo, planificación, ilusión, sueños, miedo, tropiezos, agotamiento, adversidad, perseverancia, sufrimiento, sustos, paciencia, nervios, fracasos, deshidratación, dolor, diarreas, frío mucho frío, calor mucho………..frustración, frustración, …….
"Sí, porque hay una historia mas, una historia de la que nadie se acuerda, también existe una historia detrás del fotógrafo, y en mayor o menor medida detrás de todas y cada una de las imágenes que realizamos los 'fotógrafos de naturaleza'. Una historia que se cruza en el espacio y el tiempo con la historia del protagonista de la imagen y de la cual puede llegar a surgir una buena 'foto de naturaleza'".
¡Uuuufff!………No pasa nada, hay que intentarlo otra vez…….y ya estás pensando…….¿Dónde será?  
Bueno, ya has acabado de editar las fotos y……. ¿Ahora qué?………………………
---
………………5:30 AM: Come on!!! Get up!!! Be happy!! Come on!!! Let´s go!!! The sun is rising and we have to take …….good pictures today!!!
I have arrived home. Now you are at the photo studio and now you must start the arduous work of editing the images you have brought (I think again…..too many). Download, security save, display and selection; location and description; common and scientific name of the species (if there is any); keywords; etc, etc… one by one……Uuuuffff!!!!…..Months of work…….. Well, it is only work. Laborious, tedious, heavy, boring, but…..only work.
But……Where is that picture I thought it was…….good? And where the other one that I believed……? Nothing, I cannot find them. Where are they? They aren't, they don´t exist, they have never existed. I thought……..but not, at the end, not, only…….mediocre pictures. After many difficulties, work, study, sacrifice, loneliness, devotion, risks, commitment, effort, planning, illusion, dreams, fear, stumbles, exhaustion, adversity, perseverance, suffering, scares, patience, nerves, failures, dehydration, pain, diarrhea, cold, very cold, hot, too much……… Frustration, frustration……..
"Yes, because there is one more  story,  a story that nobody remembers, there is also a story behind the photographer, and of course behind each and every one of the images that take the «wildlife photographers». A story that crosses space and time with the story of the protagonist of the image and which can arise a good «wildlife picture»".
 Uuuufff!………Nothing happens, you have to try again…….and now you're thinking …… Where will it be?
Well, you've finished editing the pictures and what now? …………….
https://www.albertocarrera.com/wp-content/uploads/2018/03/Alberto-Carrera-Blog-2-015.jpg
786
1459
acceso_alberto2018
https://www.albertocarrera.com/wp-content/uploads/2018/03/cabecera.jpg
acceso_alberto2018
2017-09-01 11:04:54
2018-04-10 11:19:11
UNA HISTORIA MÁS DE FOTOGRAFÍA DE NATURALEZA 15 // ONE MORE WILDLIFE PHOTOGRAPHY STORY 15