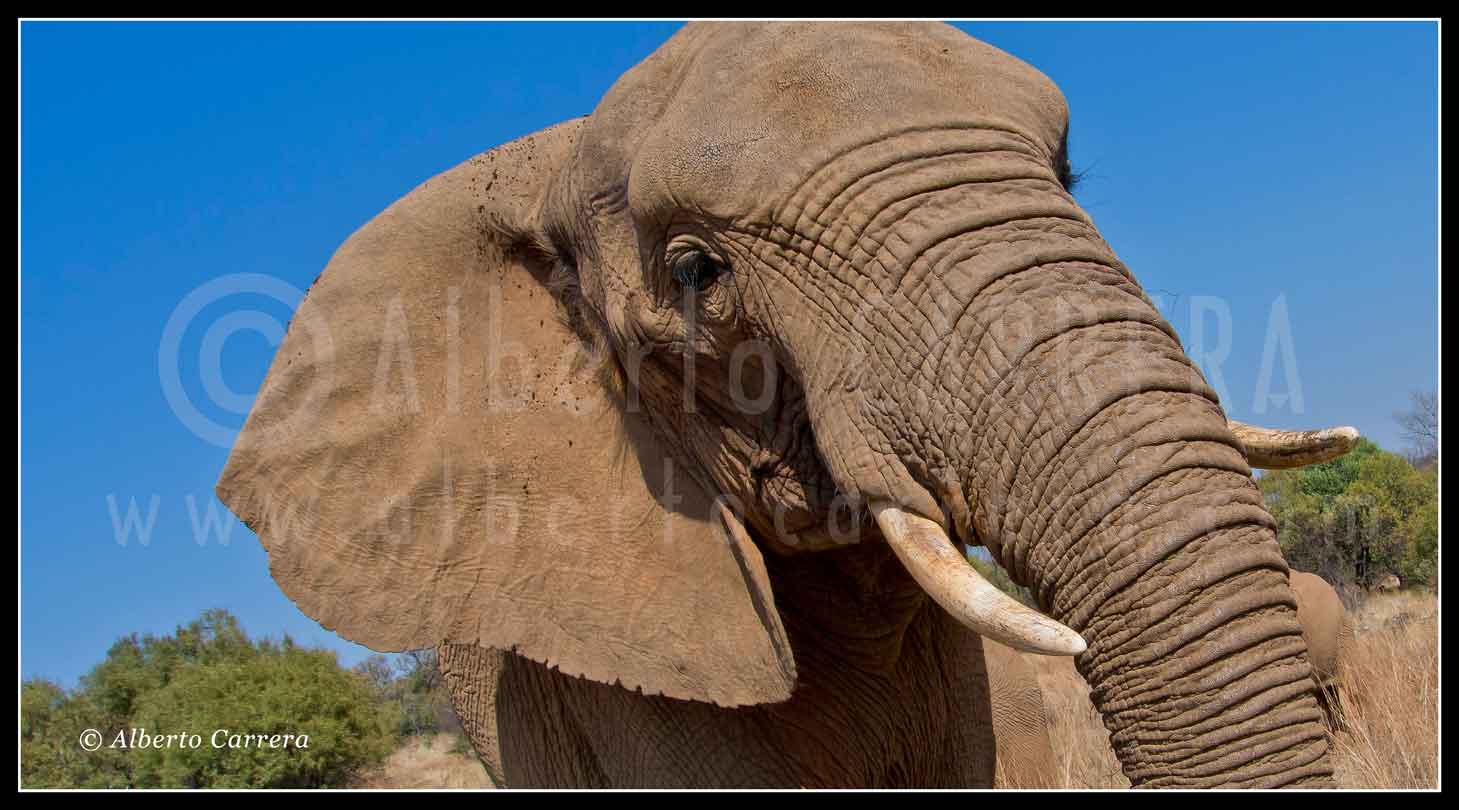 Elephant, Loxodonta africana, South Africa, Africa
UNA HISTORIA MÁS DE FOTOGRAFÍA DE NATURALEZA 07 // ONE MORE WILDLIFE PHOTOGRAPHY STORY 07
……………Dónde he estado nadie sabía lo que es un daiquiri; y….sí, he hecho alguna foto que otra (he llegado hasta aquí para eso), yo creo que demasiadas……
Y es que, me he levantado a las 5:00AM, he preparado las cámaras mientras amanecía y he intentado tomar algo para desayunar pero no he podido, así que, solo me he tomado una pastilla para la diarrea con abundante agua. Ya ha llegado un joven guía local así que me he echado la pesada mochila de las cámaras en la espalda y nos hemos ido a trabajar (SI, a trabajar) a la selva.
He llegado aquí después de un día con su noche navegando por un pequeño y serpenteante río. Después de lo de ayer se me ha ocurrido coger una toalla para poder secarme cada cinco minutos la cabeza y cara para así evitar que el sudor caiga a chorros sobre la cámara. Al final me he tenido que envolver la cabeza y cuello con ella para intentar que no me piquen más mosquitos y bichos sin determinar; tengo la camisa llena de puntitos de sangre y cada vez que me pica algo, siento un pinchazo, y me es muy difícil concentrarme en tomar fotos……. ¡De todas formas da igual, esa toalla ya no secaba nada!!! 
El calor y la humedad son elevadísimos y no paro de sudar. Ya tengo toda la ropa empapada, ¡como si me hubieran echado un cubo de agua por encima! Entre unas cosas y otras me voy a deshidratar……pero….hay que seguir buscando……"la foto".
10:00AM: –¡Joooodxxx, qué calor!!! ¡Vaya!!…Hemos calculado mal…………..
—————————————————————————
…………… where I've been no one knew what a daiquiri is; and ……yes, I have took more than one or two pictures (I've come here for that), too many….I think……
And the thing is, I woke up at 5:00AM, I have prepared the cameras while dawn and I have tried to have something to eat for breakfast but I have not been able to, so I just took a tablet for the diarrhea with plenty of water. A young local guide has already arrived so, I have thrown the heavy backpack of the cameras in the back and we have gone to work (YES, to work) to the jungle. I have come here after a day and a night navigating through a small meandering river. After what happened yesterday, I've thought to bring a towel to dry off my head and face every five minutes to prevent sweat falls on the camera. At the end I've had to wrap my head and neck with the towel to avoid be bitten by more mosquitoes and undetermined bugs, I have my shirt full of little spots of blood and, every time something stings me, I feel a jab, I distract myself and is very difficult to concentrate on taking pictures… Anyway, that towel did not dry anymore!
The heat and humidity are very high and I do not stop sweating. I already have all the clothes soaked, as if I had thrown a bucket of water on top! Between some things and others I'm going to dehydrate…… but….you must to keep looking……»the picture».
10:00AM: –Fucxx!!!  It's hot as hell!  Whoops!!!…We have miscalculated………….
https://www.albertocarrera.com/wp-content/uploads/2018/03/Alberto-Carrera-Blog-2-007.jpg
810
1459
acceso_alberto2018
https://www.albertocarrera.com/wp-content/uploads/2018/03/cabecera.jpg
acceso_alberto2018
2017-05-11 11:58:19
2018-04-10 11:25:07
UNA HISTORIA MÁS DE FOTOGRAFÍA DE NATURALEZA 07 // ONE MORE WILDLIFE PHOTOGRAPHY STORY 07