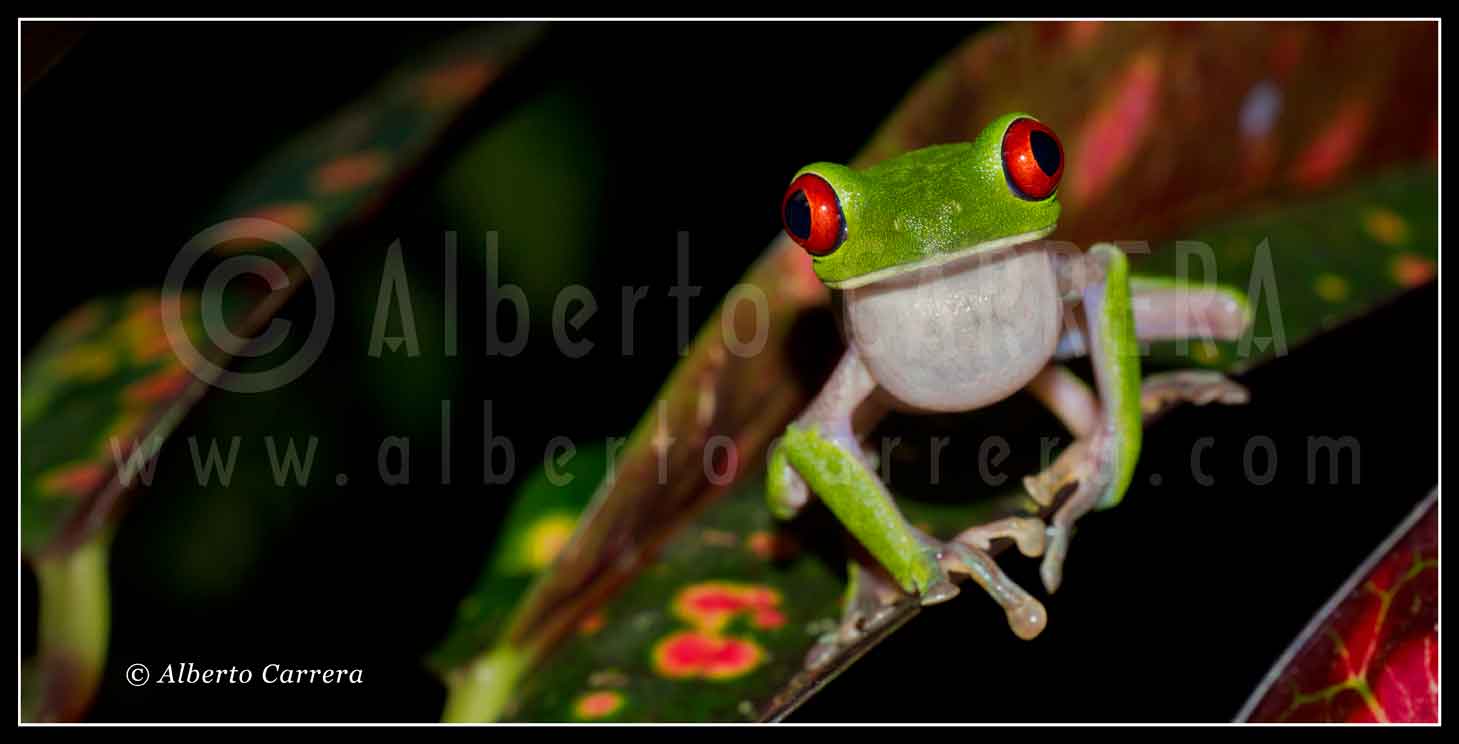 Red-eyed Tree Frog, Agalychnis callidryas, Corcovado National Park, Costa Rica, America
UNA HISTORIA MÁS DE FOTOGRAFÍA DE NATURALEZA 04 // ONE MORE WILDLIFE PHOTOGRAPHY STORY 04
………a la historia que hay detrás del fotógrafo, a la historia que se cruza en el espacio y el tiempo con la historia del protagonista de la imagen y de la cual puede llegar a surgir una buena 'foto de naturaleza'.
Sí, porque hay una historia mas, también existe una historia detrás del fotógrafo, y en mayor o menor medida detrás de todas y cada una de las imágenes que realizamos los 'fotógrafos de naturaleza'. Una historia de la que nadie se acuerda. Sí, hay una historia, una historia plagada de dificultades, una historia de trabajo, una historia de estudio, de sacrificio, de soledad, sueños, dedicación, riesgos, empeño, esfuerzo, planificación, ilusión, peligro, miedo, tropiezos, agotamiento, adversidad, perseverancia, sufrimiento, sustos, paciencia, nervios, fracasos, deshidratación, dolor, diarreas, frío mucho frío, calor mucho calor, picor mucho picor, sudor mucho sudor, sueño mucho sueño, malestar, hambre, sed, arañazos, golpes, infecciones, caídas, mareo, picaduras, mordeduras, heridas, vómitos, extravíos, averías, resignación, desesperación, sorpresas desagradables,……y……….frustración, frustración.…. y seguro algunas otras cosas que aportarían muchos de mis colegas. Existen muchas ocasiones, muchas, cuando las cosas se ponen feas, en las que te preguntas; "pero………… ¿qué necesidad tengo yo……..?". 
Bueno, al final todo eso se sobrelleva más o menos bien.………………
---
………..the story behind the photographer, the story that crosses space and time with the story of the protagonist of the image and which can arise a good «wildlife picture».
Yes, because there is one more  story,  there is also a story behind the photographer, and of course behind each and every one of the images that take the «wildlife photographers», a story that nobody remembers. Yes, there is a story, there is a story plenty of difficulties, a work story, a study story, a story of sacrifice, loneliness, devotion, risk, commitment, effort, dreams, planning, illusion, danger, fear, stumbles, exhaustion, adversity, perseverance, suffering, scares, patience, nerves, failure, dehydration, pain, diarrhea, cold  very cold, hot very hot, itchy very itchy, sweat a lot of sweat, sleep a lot of sleep, discomfort, hunger, thirst, scratches, shocks, infections, falls, dizziness, stings, bites, wounds, vomits, loss, damage, resignation, despair, unpleasant surprises,……..and…….frustration, frustration……and for sure, some other things that many of my colleagues would say. And there are many times, often a lot, when things get ugly, in which you wonder; «but…….what need do I have to ………?."
Well, all of this is more or less easily carried……………
https://www.albertocarrera.com/wp-content/uploads/2018/03/Alberto-Carrera-Blog-2-004.jpg
744
1459
acceso_alberto2018
https://www.albertocarrera.com/wp-content/uploads/2018/03/cabecera.jpg
acceso_alberto2018
2017-01-16 12:56:53
2018-04-17 08:53:38
UNA HISTORIA MÁS DE FOTOGRAFÍA DE NATURALEZA 04 // ONE MORE WILDLIFE PHOTOGRAPHY STORY 04