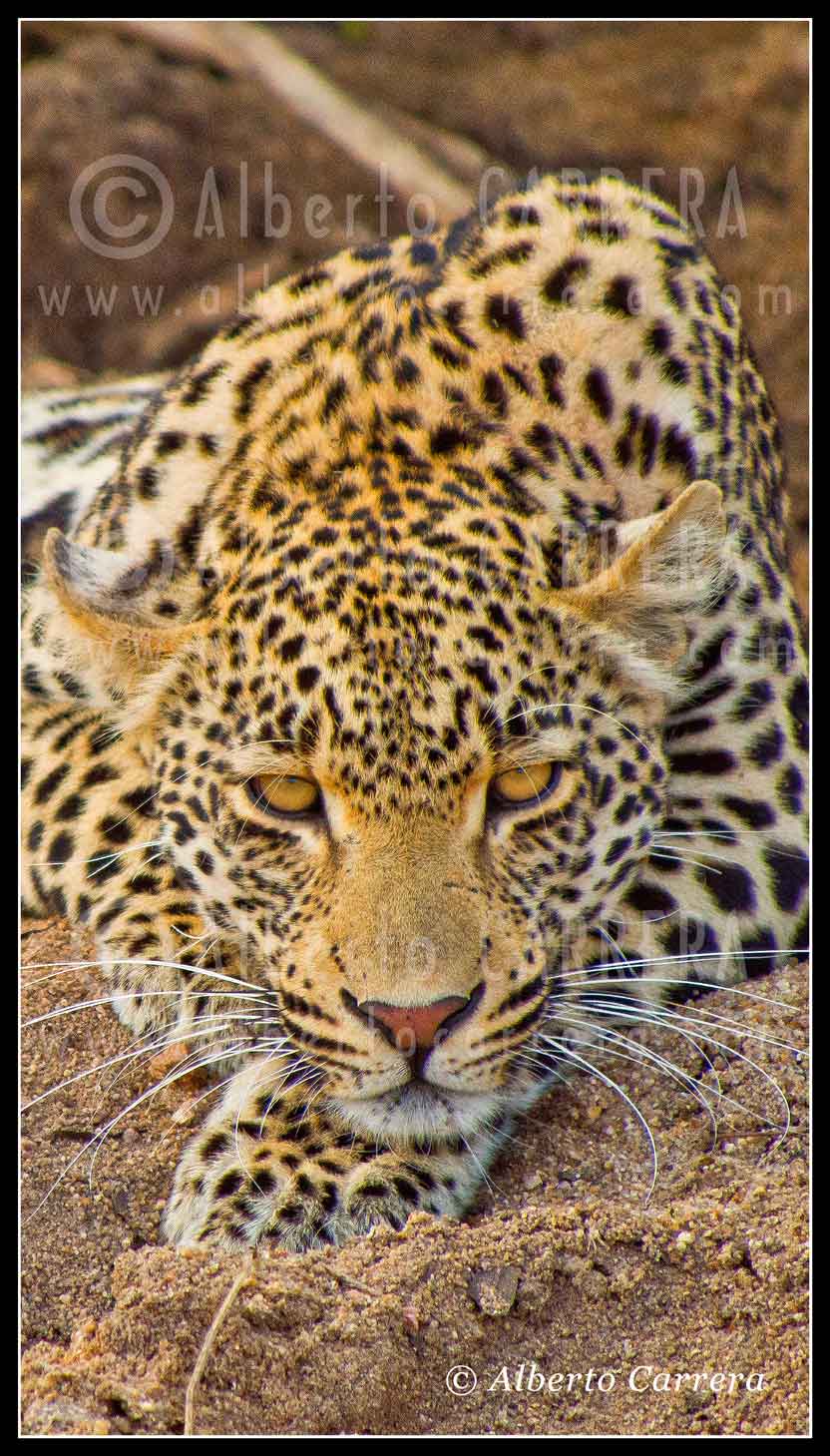 Leopard, Panthera pardus, Kruger National Park, South Africa, Africa
UNA HISTORIA MÁS DE FOTOGRAFÍA DE NATURALEZA 02 // ONE MORE WILDLIFE PHOTOGRAPHY STORY 02
……………………aspira cualquier fotógrafo que se precie.
Pero fue entonces cuando una alumna de ojos avispados me preguntó: "Si, todo eso está más o menos claro, pero, ¿Qué hay realmente detrás de una buena 'foto de naturaleza'?, ¿Qué es lo que hay que hacer?, Debe haber algo más, pues yo 'salgo al campo' con los deberes hechos, mi cámara preparada y llena de optimismo y, después de muchas horas, vuelvo a casa con 1.200 fotos!!! y………..en fin". Algunos de sus compañeros argumentaron: "Un equipo muy caro", "Una cámara bien grande", "Muchos objetivos". "No", respondió ella insatisfecha; "eso desde luego que no es, tiene que haber algo más, hay más, el fotógrafo estaba allí, en el sitio justo en el momento justo, y "apretó el disparador". "Sí, claro, también está la historia del protagonista de la fotografía, pero….hay……una historia más".
Pues estoy totalmente de acuerdo con……………..
—————————————————————————
…………………… is what any self-respecting photographer wants to achieve.

But that was when a smart eyes girl asked me: «Yes, all that is more or less clear, but what is really behind a good "wildlife picture"?, «what is need to be done»? «, «it must be something more, because I «go to the field» with my homework done, my camera prepared, and full of optimism; after many hours taking pictures, I come home with 1,200 pictures!!! and,………..nothing. «Some of her classmates argued: «a very expensive equipment», «a very big camera», «lots of lens». «No", she replied unsatisfied, «definitely not, it must be something else, there is much more; the photographer was there, in the right place at the right time, and» pulled the shutter button». "Yes, of course, it is also the story of the protagonist of the picture, but…..there is………………. one more  story". 
«Well, I totally agree with ………
https://www.albertocarrera.com/wp-content/uploads/2018/03/Alberto-Carrera-Blog-2-002.jpg
1459
832
acceso_alberto2018
https://www.albertocarrera.com/wp-content/uploads/2018/03/cabecera.jpg
acceso_alberto2018
2016-11-30 11:51:49
2018-04-10 11:23:57
UNA HISTORIA MÁS DE FOTOGRAFÍA DE NATURALEZA 02 // ONE MORE WILDLIFE PHOTOGRAPHY STORY 02