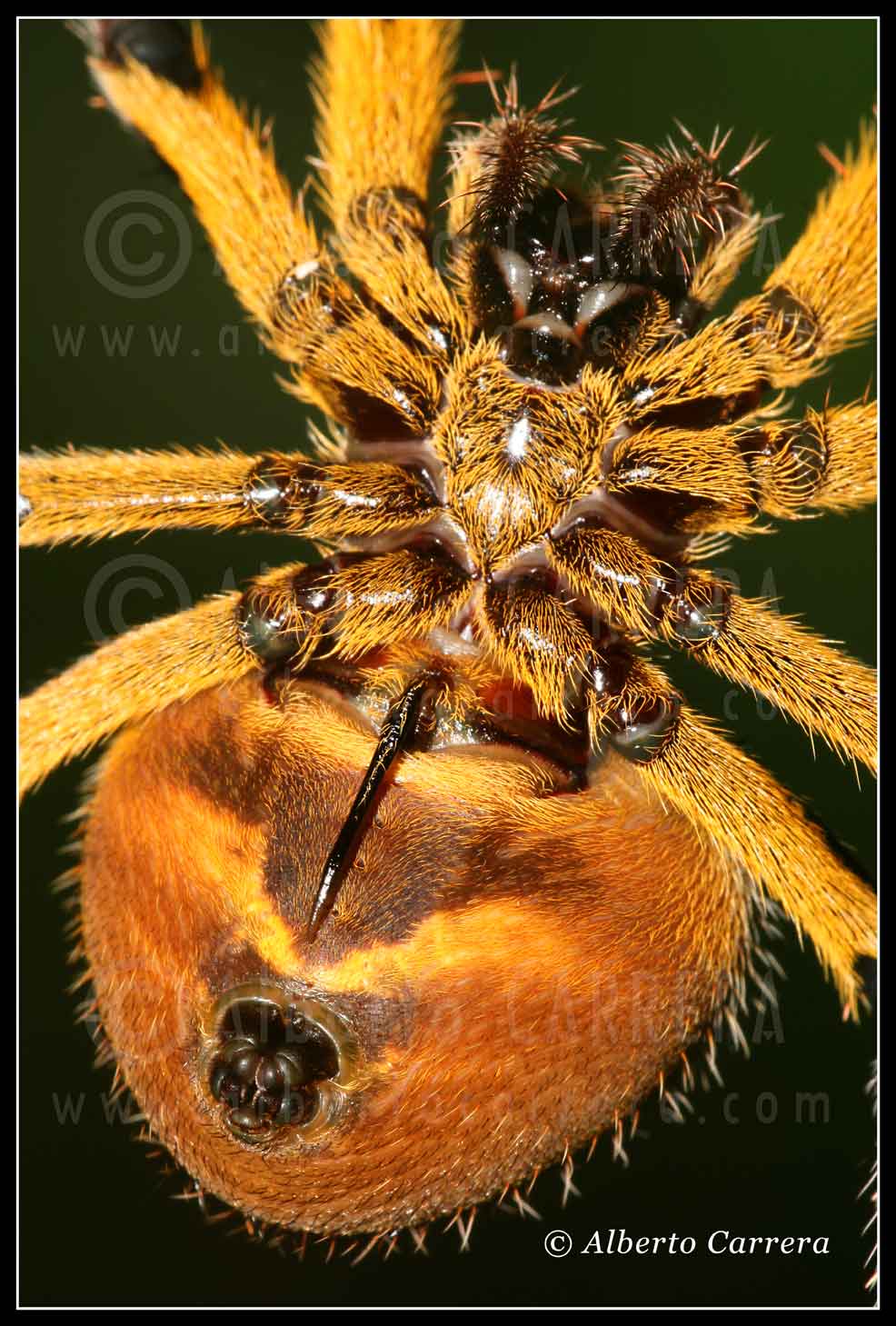 Spyder, Napo River Basin, Amazonia, Ecuador, America
UNA HISTORIA MÁS DE FOTOGRAFÍA DE NATURALEZA 09 // ONE MORE WILDLIFE PHOTOGRAPHY STORY 09
……………¡Si nos muerde algo, ya sí que no lo contamos!!! -Me dice el guía por señas bastante claras. Y tiene razón pues me está empezando a salir un sarpullido sospechoso en las manos……..
02:00PM: Conmino al guía a intentar regresar por donde hemos venido. -¡Debemos conseguir volver en la dirección de dónde venimos! -Intentamos seguir nuestro propio rastro de ramas quebradas y las marcas de los resbalones, no es nada fácil. Obviamente no hay brújula, no hay cobertura telefónica……je, je, ¡Como en las películas!!! (Uuff!…La cosa no está para muchas bromas….)
El guía no sabe dónde está el Norte, no sabe de dónde venimos, no sabe a dónde vamos….
03:30PM: El nivel del agua va disminuyendo, ya solo nos llega a las rodillas ¡Qué difícil es avanzar así!!!
04:15PM: Por fin logramos llegar a un sitio…"seco". ¡Uuuuufff! ¡Mejor! Estamos llenos de lodo. Nos quitamos toda la ropa empapada, toda. Y cuando nos miramos el cuerpo desnudo:–¡Joooooodxx!!!.…..las piernas y….algo más arriba……..pero… ¿Cómo han llegado hasta aquí tantas sanguijuelas? Pienso: ¡Como sigamos así nos quedamos sin cigarrillos! (¡en todos los sentidos!).
05:00PM: Comienza a llover, diluviar……… ¡Ya, qué más da!……………………
—————————————————————————
………………..If we are bitten by something, we will have nothing to tell¡¡¡ -The guide tells me through quite some clear signs. And he is quite right because I'm starting to get a suspicious rash on my hands……..
02:00PM: I urge the guide to try to turn back the same way we came. -We must try to get back from where we came from! We try to follow our own trails of broken branches and marks of slips, it is not easy. Obviously, there is no compass, no telephone coverage…..je, je, just like in the movies!!! (Uuff!…The thing is not for many jokes…)
The guide doesn't know where the North is, he doesn't know where we come from, doesn't know where we go…..
03:30PM: The water level decreases, and only reaches our knees. How hard is to advance!!!
04:15PM: We finally get a …"dry" site. Uuuuffff! Better! We are full of mud. We take off all our wet clothes, all the clothes. And when we look at our naked body: –Fuxx!!!.…..the legs and…… something higher…… but……How can so many leeches have got here? I think: if we continue like this, we will be out of cigarettes! (In every meanings!).
05:00PM: Starts raining, pouring, anyway, who cares! ……………………
https://www.albertocarrera.com/wp-content/uploads/2018/03/Alberto-Carrera-Blog-2-009.jpg
1459
986
acceso_alberto2018
https://www.albertocarrera.com/wp-content/uploads/2018/03/cabecera.jpg
acceso_alberto2018
2017-06-16 11:38:45
2018-04-10 11:25:16
UNA HISTORIA MÁS DE FOTOGRAFÍA DE NATURALEZA 09 // ONE MORE WILDLIFE PHOTOGRAPHY STORY 09