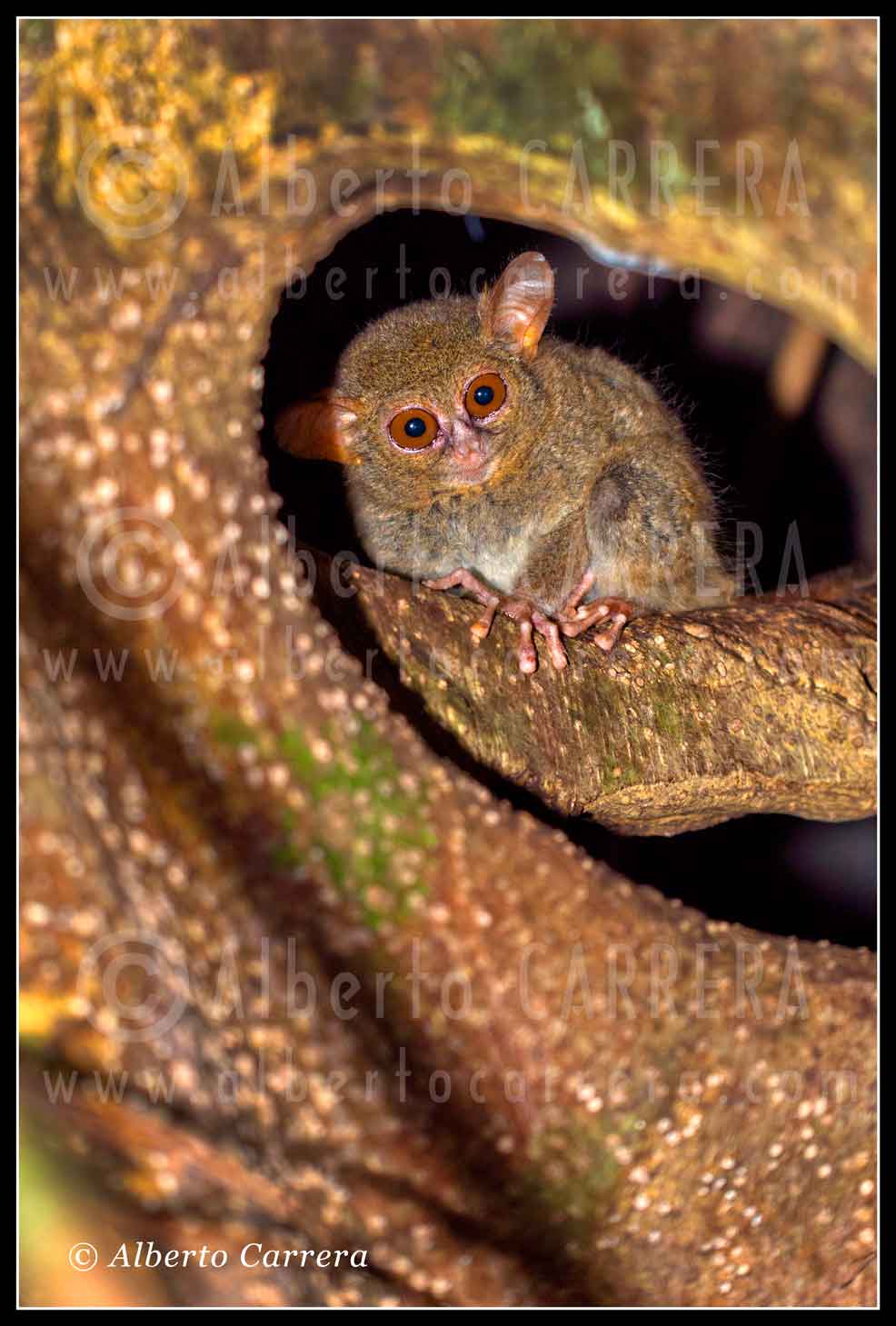 Spectral Tarsier, Tarsius tarsier, Tangkoko Nature Reserve, North Sulawesi, Indonesia, Asia
UNA HISTORIA MÁS DE FOTOGRAFÍA DE NATURALEZA 14 // ONE MORE WILDLIFE PHOTOGRAPHY STORY 14
……………….Me quedo dormido hipnotizado por el increíble espectáculo del intermitente destello de cientos y cientos de luciérnagas que me sobrevuelan incansables………
03:00 AM: ¡Me despierto sobresaltado!!! –¿Pero………qué pasa ahora?…….. ¡Tormenta!………..Diluvia, rayos, truenos, ¡rachas muy fuertes de viento!!! Ooohh!!! ¡No, no,…..no, no, no!!!…….. ¡Pues sí!!! Se ha roto el cabo al que estábamos amarrados. ¡Vamos a la deriva! El "capitán" grita cosas raras. Encallamos. El barco comienza a escorarse de estribor. ¡Las cámaras!!! Corro como puedo, agarro la mochila a duras penas y la ato a un poste del barco lo mejor que puedo. Pienso: ¡como esto se hunda!, adiós equipo, fotos y…………..
Con el motor a toda marcha y empujando con ayuda de unas varas y todas nuestras fuerzas logramos desencallar el barco.
3.30AM: Hemos conseguido volver a amarrar el barco. La tormenta esta amainando. Me vuelvo a tumbar, ¡estoy agotado…!!!
5:30 AM: ¡Vamos!!! ¡Arriba!!! ¡A levantarse!!! ¡Alegría!!! "Vaaaamos"…… ¡Que va a salir el sol y hoy tenemos que conseguir…….buenas fotos!!!
Ya he llegado a casa. Ya estás en el estudio y ahora hay que ponerse…………….
………………………………………………………………………………………………………….
………………….I fall asleep hypnotized by the incredible spectacle of the intermittent flash of hundreds and hundreds of fireflies that fly me over tirelessly……..
03:00 AM: I wake up with a shock!!! -But……….what happens now?.……..Storm! ……..-It pours, thunders, lightings, strong very strong gusts of wind!!! Ooohh!!! No, no ….no, no, no!!!……..Yes!!! The rope to which we were tied is broken. We are adrift!!! The «captain» shouts strange things. The boat runs aground. The boat starts to heel over the starboard. The cameras!!! I run as I can, I hardly grab the backpack and I tie it to a pole boat as best as I can. I think: if this boat sinks! Goodbye equipment, photos and………….
With the engine at full speed and pushing with staves with all our strength we can refloat the ship.
3.30AM: We have been able to re-moor the boat again. The storm gradually dies down. I'm going to lay down again. I'm exhausted!!!
5:30 AM: Come on!!! Get up!!! Be happy!!! come on!!! Let´s go!!! The sun is rising and we have to take……..good pictures today!!!
 I have arrived home. Now you are at the photo studio and now you must ………………..
https://www.albertocarrera.com/wp-content/uploads/2018/03/Alberto-Carrera-Blog-2-014.jpg
1459
986
acceso_alberto2018
https://www.albertocarrera.com/wp-content/uploads/2018/03/cabecera.jpg
acceso_alberto2018
2017-08-23 10:01:49
2018-04-10 11:19:00
UNA HISTORIA MÁS DE FOTOGRAFÍA DE NATURALEZA 14 // ONE MORE WILDLIFE PHOTOGRAPHY STORY 14