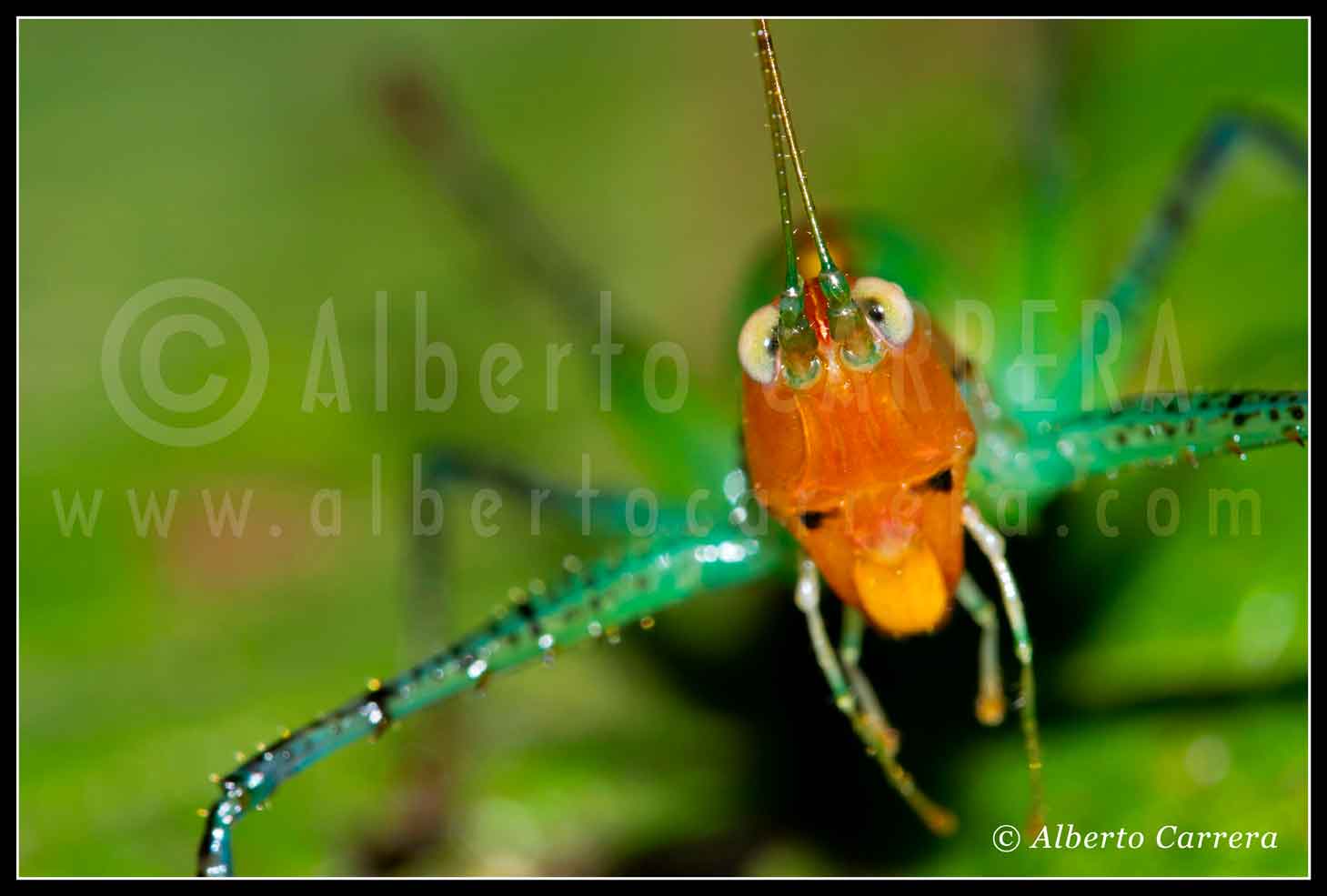 Grasshopper, Tropical Rainforest, Marino Ballena National Park, Costa Rica, America
UNA HISTORIA MÁS DE FOTOGRAFÍA DE NATURALEZA 12 // ONE MORE WILDLIFE PHOTOGRAPHY STORY 12
……………Habrá sido de la tensión, mañana seguro que se me ha pasado", -pienso con optimismo (al final, no).
11.30PM: Uno de los "rescatadores" me debe ver un poco "fastidiado" y se ofrece amable a llevarme la pesada mochila del equipo fotográfico, no tengo más remedio que aceptar el ofrecimiento resignado.
00:15AM: Parece que ya estamos llegando al campamento…..…… ¡Agradecimientos!!!……………. ¡Abrazos!!!……….Sonrisas……Suspiros………Explicaciones……..
00:45AM: Llego al "destartalado barquito". ¡Por fin! ¡Hogar dulce hogar!!! Ropa seca (me queda poca), algo de comer (por supuesto un poco de arroz junto a otra pastilla para la diarrea).
Tengo que cargar las baterías, hay que arrancar el motor del barco para generar energía. Después de una dura negociación, el "capitán" accede "a regañadientes" haciendo ruidos incomprensibles con la boca y cara de pocos amigos.
Pongo a cargar las primeras baterías; mientras, comienzo a descargar las imágenes en los discos duros portátiles
–¡Que hay mucha humedad y esto tarda! ¡Venga, venga, vamos!!! ¡Se van a fastidiar! -Los envuelvo en bolsas de plástico.
01:30AM: Me pongo a secar y limpiar las cámaras…………………………
---
………….–It must have been the stress, I will get better tomorrow for sure! -I think with optimism (finally, not).
11:30PM: Someone of the "rescue team" must have seen me a little bit "damaged"…………and he offers friendly to carry my heavy backpack photographic equipment. I have to accept his offer with resignation.
00:15AM: It seems like we are getting the river camp…… Hugs!!!………….Thanks!!!………. Smiles…… Sighs………. Explanations…….
00:45AM: I get the «ramshackle little boat». Finally! Home sweet home!!! Dry clothe (few remaining), something to eat (of course, a little bit of rice along with another tablet for diarrhea).
I have to charge my batteries, the boat engine must be started to generate power. After hard negotiations, the captain, "reluctantly", agrees by making incomprehensible noises with his mouth and a stern look on his face.
I put the first battery to charge while I start downloading the images on portable hard drives. The humidity is very high and it takes a long time!
–Let's go! Come on, come on!" They are going to be damaged! -I totally cover them with plastic bags. 
01:30AM: I start to dry and clean the cameras…………………………
https://www.albertocarrera.com/wp-content/uploads/2018/03/Alberto-Carrera-Blog-2-012.jpg
985
1459
acceso_alberto2018
https://www.albertocarrera.com/wp-content/uploads/2018/03/cabecera.jpg
acceso_alberto2018
2017-07-21 08:19:46
2018-04-10 11:18:40
UNA HISTORIA MÁS DE FOTOGRAFÍA DE NATURALEZA 12 // ONE MORE WILDLIFE PHOTOGRAPHY STORY 12