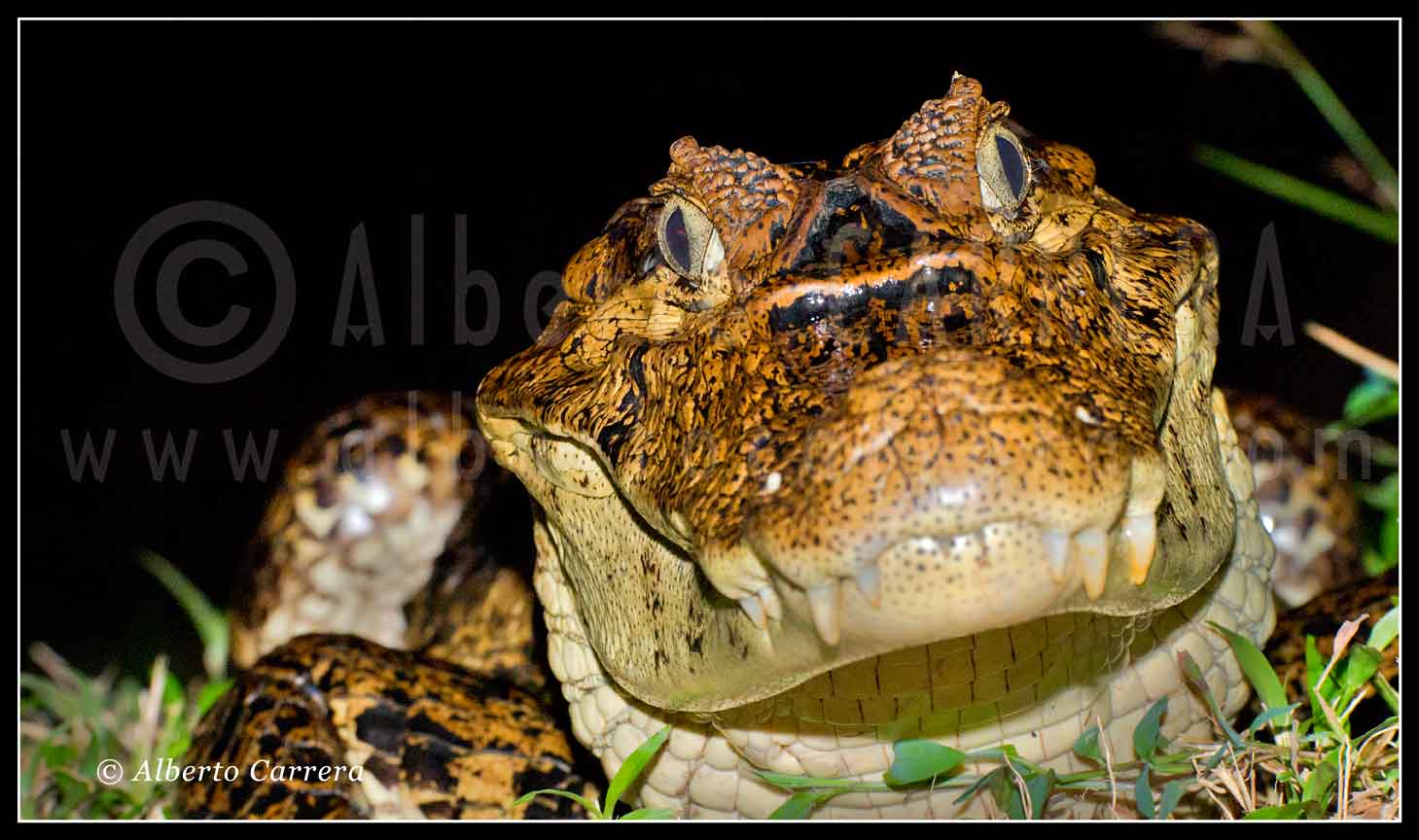 Spectacled Caiman, White Caiman, Common Caiman, Caiman crocodilus, Tropical Rainforest, Costa Rica, America
UNA HISTORIA MÁS DE FOTOGRAFÍA DE NATURALEZA 11// ONE MORE WILDLIFE PHOTOGRAPHY STORY 11
…………….. Esperamos, esperamos……..escuchamos…….la selva.
09:00PM: Nos mantenemos atentos a los sonidos de la selva….y de pronto creemos haber oído algo diferente………. -¡Sí! ¡Sí!….. ¡Alguien también está dando alaridos! ¡Un equipo de búsqueda del campamento! -Subimos nuestro nivel de alaridos hasta donde podemos. Nos encuentran. Dos personas que traen agua y galletas, llevan varias horas buscándonos ¡Toda mi vida les estaré agradecido! Diez minutos para "digerir" el agua y las galletas.
–¡Vamos, vamos! ¡No podemos retrasarnos más! ¡Nos tenemos que poner en camino cuanto antes! -Nos insta el "nuevo guía".
09:20PM: Comenzamos a andar, vamos todo lo rápido que podemos. A la media hora…………. ¡Uuuuffff!! ….Comienzo a….cojear. ¡¡¡Ooohh!!! ……. ¡No, no, no, no!!!…….. ¡Pues sí!!! ¡Es el nervio ciático que me está intentando decir algo! ¡No me lo puedo creer!!! ………¡Pues sí!!! ….La hernia discal se ha…… ¡despertado!!! -¡Habrá sido de la tensión, mañana seguro que se me ha pasado! -Pienso con optimismo (al final, no).
11.30PM: Uno de los "rescatadores"…………………….
—————————————————————————
…………….. We wait, wait …… we listen …… the jungle.
09:00PM: We remain attentive to the sounds of the jungle and suddenly we think we hear something different…………..-Yes! Yes! …..Somebody is also shrieking howls! A rescue team from the river camp! -We raised our level of howls to the top. They finally find us. Two people who bring water and cookies. They have been looking for us for several hours.  I will be grateful to them all my life! Ten minutes to "digest" the water and cookies.
–Come on! Let´s go! We cannot delay any more! We should be setting out on the way as soon as we can! -The "new guide" tell us.
09:20PM: We start walking, we go as fast as we can. Half an hour later……….Uuuuffff!!!…….I start…..to limp. Ooohh!!!………No, no, no, no!!!……….Yes! The sciatic nerve is trying to tell me something! I can't believe it! ………….Yes!!! ….My herniated lumbar disk.…..has awaked!!! -It must have been the stress. I will get better tomorrow, for sure! -I think with optimism (finally, not).
11:30PM:  Someone of the "rescue team"………………
https://www.albertocarrera.com/wp-content/uploads/2018/03/Alberto-Carrera-Blog-2-011.jpg
864
1459
acceso_alberto2018
https://www.albertocarrera.com/wp-content/uploads/2018/03/cabecera.jpg
acceso_alberto2018
2017-07-11 10:02:41
2018-04-10 11:18:09
UNA HISTORIA MÁS DE FOTOGRAFÍA DE NATURALEZA 11 // ONE MORE WILDLIFE PHOTOGRAPHY STORY 11